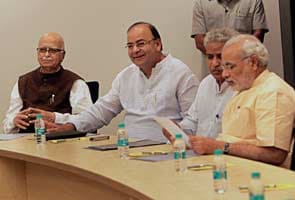 New Delhi:
Narendra Modi today attended a meeting of the Bharatiya Janata Party's parliamentary board, a team of 12 top leaders who make the big decisions in the party. He is its newest member.
Mr Modi expressed his opinion on highlighting the failures of the UPA government ahead of the party's national executive scheduled for next month and pitched for firming up the BJP's strategy for the coming Lok Saha elections in 2014.
The Gujarat Chief Minister also suggested using the social media to reach out to the youth.
The party decided to organise nationwide jail bharo movement from next week (May 27).
Mr Modi, who was inducted in March this year, is the only Chief Minister on the team, a concession that was made especially to accommodate him on the board, which is headed by party president Rajnath Singh.
That appointment was widely read as a signal of Mr Modi's growing importance within the party and a decision this week to appoint his close aide, the controversial Amit Shah as the party's general secretary in charge of the crucial Uttar Pradesh has strengthened his position.
Party sources say that Mr Shah has been given this crucial responsibility because he is an outsider and doesn't belong to any lobby, which is seen as an advantage in a faction-ridden state like Uttar Pradesh. Also, sources say that Mr Shah enjoys better equation with Mr Modi.
The Gujarat Chief Minister is considered by many within the BJP as the best bet to lead the party's campaign in the 2014 Lok Sabha elections. The elections are now months away, but the party has not made an announcement yet on who its presumptive Prime Minister will be and party leaders have indicated that it is in no hurry to do so. The BJP's key ally, the Janata Dal United has made it clear that Mr Modi is not acceptable to it as the leader of the NDA, the national coalition they partner in.
A final decision, when it comes, will be taken by the BJP parliamentary board.
Mr Shah's latest appointment has led to speculation on whether Narendra Modi could choose to contest elections from UP in 2014 if the party does decide to pick him as its candidate for Prime Minister. The party's only PM to date, Atal Bihari Vajpayee, contested from Lucknow in UP.
The party has, however, categorically denied that Mr Modi has anything to do with Mr Shah being handed a role in the politically-important state. "Narendra Modi has recommended nobody... he (Shah) has been a successful minister in Gujarat... I am sure he will be useful in UP," Rajnath Singh said.
Mr Shah has several criminal cases against him and is out on bail.