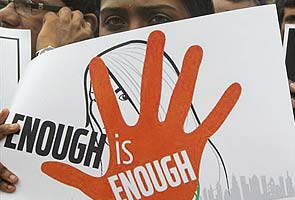 New Delhi:
The Supreme Court today echoed the national outrage over the gang-rape of a young photographer in the heart of Mumbai last week.
"What is wrong with the system? Why are 90 percent of rape cases ending in acquittals? The situation is going from bad to worse," the judges said. "Why is it (rape) happening again and again? That too only in metropolitan cities?"
They were hearing a case filed by the father of a woman who was gang-raped in Haryana; he has said that cannot afford the security provided by the Haryana government for his daughter. The family alleges that the survivor's mother was shot dead after she filed a case against her attackers, and that the survivor has been receiving death threats.
The father's appeal also stressed that after rape survivors report their attacks, they are ostracized in their villages.
In response, the judges ordered all state governments to urgently frame a rehabilitation policy for rape survivors.
The photographer who was attacked at a deserted mill in South Mumbai is recovering in a local hospital. In an emotional statement on Sunday evening, her family stressed the need to protect her identity. "We live in a society where such actions will only make it more difficult for us to get back to normal life," the statement said.
All five suspects accused of the gang-rape have been arrested; Mumbai police commissioner Satayapal Singh today said that a chargesheet will be filed at the earliest against them, seeking the "strictest punishment", underscored by the family as a request in its statement.