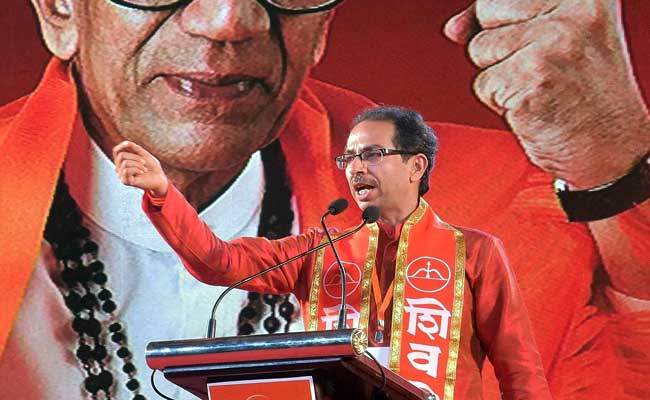 Mumbai:
Taking a swipe at Prime Minister Narendra Modi, Shiv Sena chief Uddhav Thackeray claimed on Friday that the 'Modi wave' has waned and that the BJP now relies on "sympathy wave" to win elections.
He said the national party gets a "stomach ache" if the Shiv Sena becomes politically strong.
The BJP narrowed the gap between its tally with that of the Sena in the cash-rich Mumbai civic body as its nominee won the BMC bypoll from Bhandup, beating the bickering ally's candidate by 4,792 votes on Thursday.
However, the Uddhav Thackeray-led party today got a boost when six corporators of the Brihanmumbai Municipal Corporation of the Raj Thackeray-headed Maharashtra Navnirman Sena (MNS) joined it.
"The Modi wave has waned now. The BJP has to rely on sympathy wave to win polls and bypolls. If they (the BJP) get stomach ache with our increased strength, what kind of allies are they?" Mr Thackeray asked.
The BJP's victorious candidate in Bhandup, Jagruti Patil, is the daughter-in-law of corporator Pramila Patil, whose death necessitated the bypoll.
He was addressing the media after inducting six MNS corporators into the Shiv Sena fold.
Uddhav Thackeray rejected suggestions that the Shiv Sena "poached" MNS corporators and said such incidents had taken place in Arunachal Pradesh and Goa (both ruled by the BJP).
"People should not level allegations of poaching. If others do it, it amounts to self-respect and if we do it, it becomes betrayal? Poaching took place in Arunachal Pradesh and Goa. What happened today was just
'ghar wapsi'
(homecoming)," Uddhav Thackeray said.
There were no ulterior motives behind inducting the MNS corporators and it was done only after they expressed their desire to join the Shiv Sena, he said.