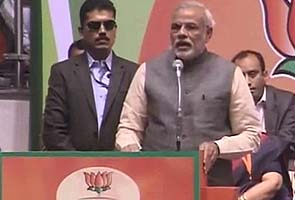 Gandhinagar:
In Delhi, Congress vice-president Rahul Gandhi told business tycoons that reports of him becoming Prime Minister are "smoke" and irrelevant.
In Gandhinagar, the man who is likely to be pitted against Mr Gandhi in the national election hinted that he may be ready to take on the country's top job.
Chief Minister
Narendra Modi
was the star guest at the book release of a retired bureaucrat, who said, "You have repaid the debt of Gujarat, now it is time to repay your debt to India."
Mr Modi, who was re-elected for the third time in December, said, "Not just me...all of us are obliged to repay our debt to the country."
In that, many see a coy admission of Mr Modi's prime ministerial ambitions. His party, the BJP, has so far not announced him as their prime ministerial candidate. But recently, he has been given major promotions within his party, pointing to the large role he will play in the national election.
Mr Modi, however, has to contend with allegations that he did not do enough to prevent communal riots in his state in 2002.
Nitish Kumar of the Janata Dal (United), which is the biggest ally of the BJP, has made it clear that he will end the partnership if Mr Modi is picked as the prime ministerial candidate.