Satya Nadella on his 'surreal' journey
When I think back, I never grew up thinking that I'll go west of Mumbai and then I land up in Wisconsin.
Believe me, my journey has not been a simple journey of progress. There have been many ups and downs and it is the choices that I made at each of those times that have helped shape what I have achieved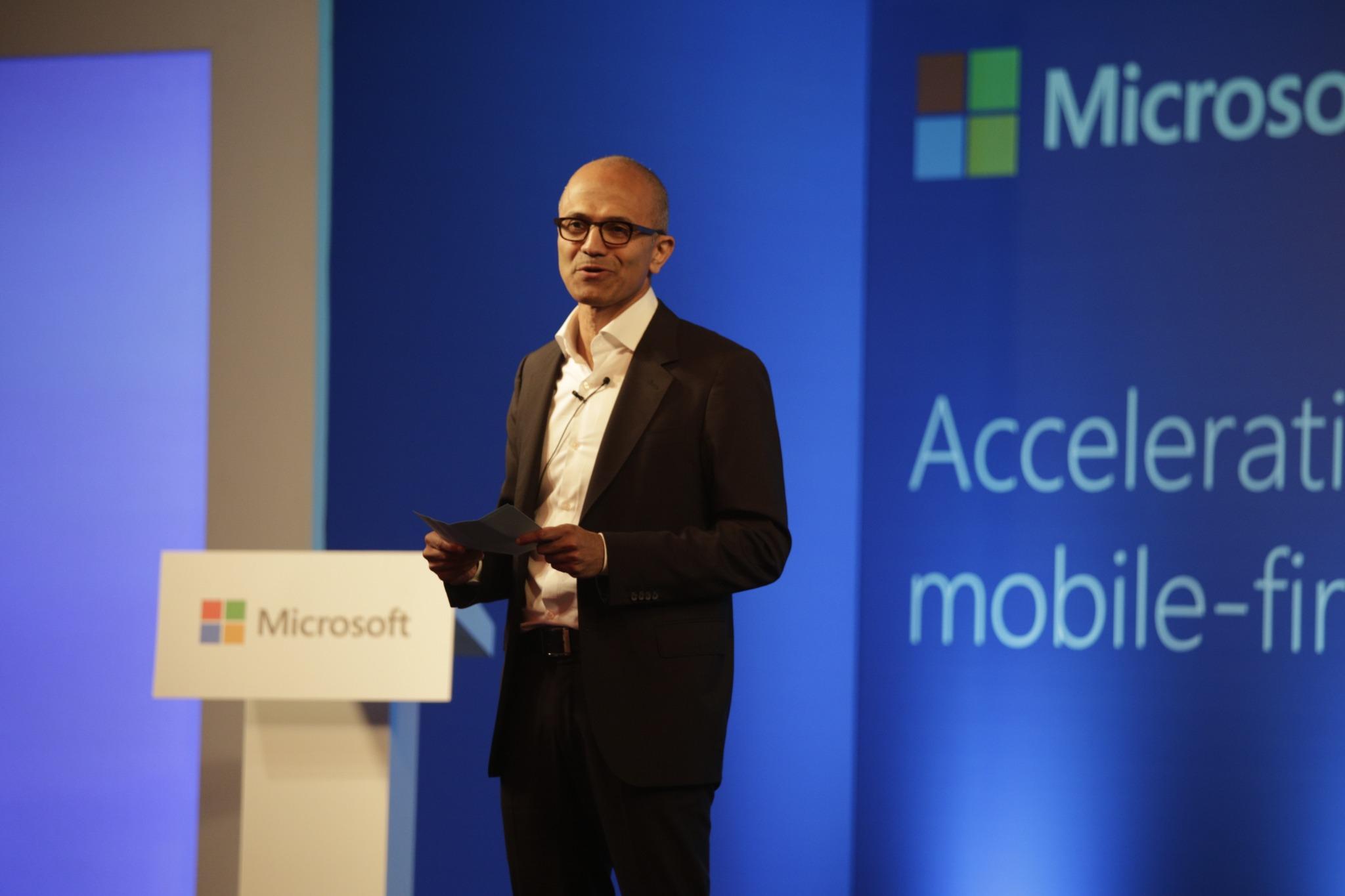 Union Minister Smriti Irani says Satya Nadella is a difficult speaker to top
We are anxious today because there is a huge expectation from all of you (the youth).
We recognize that expectation and it is the youngsters of this country who gave us this mandate - this mandate is your mandate
Satya spoke of IQ and EQ - I bring in the GQ component - the governance component.
We are making available open resources to all students from economically challenged backgrounds.
I spoke this morning to Mr Nadella about the various initiatives we are undertaking.
There are some who mock us at times for being overly dependent on social media , on information technology dreams -- but we have seen the benefits of that...
The Army in Jammu and Kashmir through social media managed to provide support to 12000 people -- how technology can help us is some of the experiences I have shared today.
All the youngsters who are watching us today, I hope through this transformation you will make your parents proud...
Satya quoted Gandhiji - let me quote him to say - Be the change you want to see.
Here is to more Satya Nadella's -- this is the dream
This platform was given to us by a man who began by tinkering with his tools in a garage and I stand here as a representative of a person who began as a tea-seller.

Out do not others but your own potential

I celebrate every youngster who has an idea for governance, says @smritiirani at Talent India 2014 #AccelerateIndia

- Microsoft India (@MicrosoftIndia) September 30, 2014
It is just such a privilege to be here, says Microsoft CEO Satya Nadella at Talent India 2014.
The energy is palpable, the optimism is here to see.
As you prepare to change the world, the opportunity before you is unparalleled.
All of you represent a multi-disciplinary approach to innovation - and that will change the future.

The mobile first, cloud first is a very rich canvas for innovation - it is not the device that is mobile, it is the person that is mobile.
How can we create platforms, how can we be the tools provider so that others can realise their potential? Today we launched our commercial cloud services

The energy you create around you is perhaps going to be the most important attribute -- in the long run EQ trumps IQ. Without being a source of energy for others very little can be accomplished.
Every opportunity I got I took it as a learning experience.
You have to fall in love with what you do because everything else then becomes so easy. Most importantly it is perhaps the best way to find meaning in what you do...
Quotes Mahatma Gandhi - Live everyday as if it your last day but learn as if you are going to live forever...

.@satyanadella's advice to Indian youth: fall in love with what you do. Then it doesn't feel like work! #AccelerateIndia

- Microsoft India (@MicrosoftIndia) September 30, 2014
.@satyanadella references Mahatma Gandhi: Live every day as if you will die tomorrow. Learn as if you will live forever. #AccelerateIndia

- Microsoft India (@MicrosoftIndia) September 30, 2014
The event is being live streamed across 20 states, 300 cities and 750 locations.