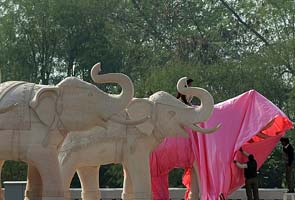 Lucknow:
The larger-than-life statues commissioned by Mayawati for memorials dedicated to her mentor and herself may have been built upon outsized corruption. Akhilesh Yadav, who has replaced Mayawati as chief minister of Uttar Pradesh, says the statues may encircle a 40,000 crore scam.
The economic offences wing of the state's Criminal Investigation Department (CID) will attempt to figure out who benefited from the alleged swindle.
130 statues of huge elephants, were placed in parks in Noida and Lucknow during Mayawati's tenure. Her party's symbol is the elephant.
Police raids at government offices have reportedly revealed that corrupt officials overpaid contractors to build the statues.Sub-standard material was allegedly used. Statues that should have cost only Rs 5 lakh were bought by a state-run agency for 60 lakhs each.
Explaining why he believes Rs 40,000 crore may have been scammed, Mr Yadav said the land used for the parks must be accounted for. "You will not add the cost of the building which was
constructed and later demolished (for the parks)," he said today.
Mayawati's party, the Bahujan Samaj Party (BSP), says that Mr Yadav's calculations are inexplicable. "He should wait for the investigation to be completed before announcing any figures," said Swami Prasad Maurya, the state unit president of the BSP.
Get Breaking news, live coverage, and Latest News from India and around the world on NDTV.com. Catch all the Live TV action on NDTV 24x7 and NDTV India. Like us on Facebook or follow us on Twitter and Instagram for latest news and live news updates.