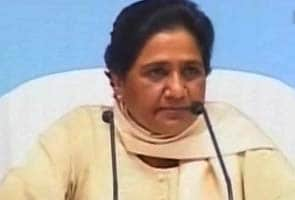 Lucknow:
Under attack over the murder of a teenaged girl in a police station in Lakhimpur Kheri, Uttar Pradesh Chief Minister Mayawati today shot off a letter to Prime Minister Manmohan Singh charging various national commissions of behaving like political parties.
National Commission for Women and National Human Rights Commission have voiced concern over the murder of the girl and NHRC has sent a fact-finding team to Lakhimpur Kheri.
Mayawati said NCW and NHRC give "undue importance to the smallest" of happenings in Uttar Pradesh, they "remain silent" on incidents and law and order situation in Congress-ruled states.
"This only goes on to prove that these national commissions are behaving like politial parties shunning their constitutional obligtions", Mayawati added.
In her letter, Mayawati has asked the PM to direct the Haryana government to provide justice to dalits of Mirchpur village who were allegedly subjected to police lathi charge while they were demanding rights.
She alleged the National Commissions, including SC/ST Commission, National Commission for Women and National Human Rights Commission have been very active in all the "minor" incidents in Uttar Pradesh but "failed" to discharge their duties in Haryana.
Targeting the SC Commission Chairman P.L Punia, she said though he belongs to Haryana he is "silent" on atrocities on Dalits in that state and asked him to go there and help them get justice and security. "Otherwise, he has no right to continue on this post," she said.
Get Breaking news, live coverage, and Latest News from India and around the world on NDTV.com. Catch all the Live TV action on NDTV 24x7 and NDTV India. Like us on Facebook or follow us on Twitter and Instagram for latest news and live news updates.