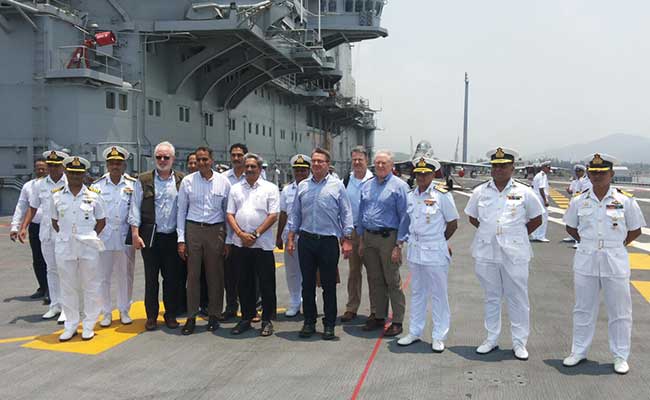 Karwar:
Defence Minister Manohar Parrikar and US Defense Secretary Ashton Carter on Monday visited the Karwar Naval Base in Karnataka.
Mr Carter, who is on a three-day visit to India, was briefed here by Flag Officer (Karwar) Rear Admiral RJ Nadkarni on Project Seabird, the first phase of construction of the base.
The US Defense Secretary also went on board the Indian Navy's aircraft carrier INS Vikramaditya.
Mr Carter, who arrived in Goa on Sunday, visited the Manguesh temple and the tomb of St. Francis at the Basilica Bom Jesus situated in Old Goa area.
Mr Parrikar accompanied Mr Carter and later hosted dinner for him.
Mr Parrikar also gifted Mr Carter a model of HMS Minden, a ship built in a Mumbai dockyard where the American national anthem "The Star-Spangled Banner" was written on board by Francis Scott Key, a Baltimore author and lawyer who was held captive in 1814 by the British.
Mr Parrikar and Mr Carter will be holding a joint press conference in New Delhi on Tuesday, officials said.
Prior to Mr Carter's visit, the US under secretary (administration) had also visited India and held discussions on various bilateral issues, including defence technology and trade initiatives.
A statement from the US embassy ahead of Mr Carter's visit said he (Ash Carter) will advance the US's growing security where the country is developing new partnerships and modernising a long-standing alliance with India.