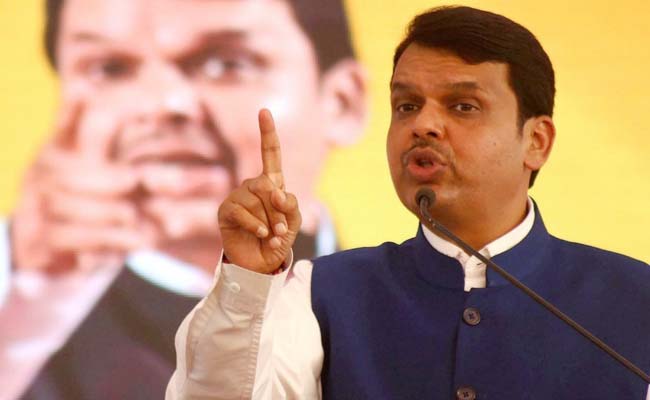 Nagpur:
Maharashtra Chief Minister Devendra Fadnavis today said the results of Assembly elections in neighbouring Gujarat had made his own government stronger.
"Those who were jumping (with excitement) before poll results had to fall flat. The results have made us stronger and more stable," said Mr Fadnavis, in an apparent jibe at those who predicted a Congress victory, as well as at the BJP's disgruntled ally Shiv Sena.
Speaking to reporters on the sidelines of ongoing winter session of Maharashtra legislature, Mr Fadnavis said the results showed that voters didn't trust the opposition.
"We may have won fewer seats than last time, but we have got almost 50 per cent of the votes. It clearly shows that people stood strongly with us. Even in Maharashtra, people are voting for us and for (Shiv) Sena at some places. They don't want the Congress and NCP," he said.
Mr Fadnavis also sought to dismiss the notion that the BJP doesn't enjoy much support in rural areas.
"There is nothing called rural distress. Even in Maharashtra, the opposition-organised farmers' rally was much smaller than our (BJP-organised) farmers' rally of 2013," he said.
Asked when senior BJP leader Eknath Khadse, who is apparently peeved as he has been sidelined following his resignation over corruption allegations, would return to the cabinet, Mr Fadnavis said, "Khadse hasn't been isolated, he is a top leader in the party. He, or Narayan Rane (who recently quit the Congress to form his own party) may be outspoken, but they are experienced politicians. I think that it is more important. Rane has joined the NDA and now he will be well taken care of," Mr Fadnavis said, adding that Mr Rane's inclusion in the cabinet will not be from the Shiv Sena's quota and hence any question of the Sena being unhappy about it does not arise.
Mr Rane, a former Sena leader, is a fierce critic of the Thackeray family, and the Sena is reportedly opposed to his inclusion in the cabinet.
On a planned oil refinery in Konkan region, which is facing a stiff opposition from locals as well as the Shiv Sena, Mr Fadnavis said some "commercial NGOs" coming from as far as Chennai were behind this opposition.
"Chembur (in Mumbai) has a refinery for years. Did anyone die there? These claims (about adverse effects on environment) are made due to the lack of knowledge," he said. "These days even an agitation has become a business. Why these commercial NGOs are making noise in the areas with which they have no association?" he asked, claiming the project may generate one lakh jobs and would probably be the biggest green oil refinery in the world.