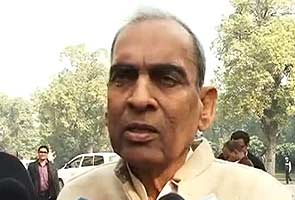 New Delhi:
There was chaos in the Rajya Sabha today over the disclosure by retail giant Wal-mart that it spent crores in the US lobbying for entry into India.
The Opposition BJP said that lobbying in India is illegal, and the Prime Minister must explain what impact the lobbying had in his decision to allow foreign supermarkets into the country.
The retail reforms were put to a vote last week under sustained pressure from the Opposition; the government won the vote in both Houses, partly because regional super-power Mulayam Singh Yadav ensured his party abstained during the vote.
Mohan Singh from Mr Yadav's party had a unique explanation for why any attempts at lobbying would have fallen flat with the Samajwadi Party. "No Samajwadi Party member can be lobbied with by Wal-Mart, we don't have any leader who can speak English," he said.
In a report submitted in the US, Wal-Mart said that since 2008, it has spent 125 crores on lobbying for different causes, including Foreign Direct Investment or FDI in India. The company said that this year alone, it has spent 18 crores.
(With inputs from PTI)
Follow NDTV for latest election news and live coverage of assembly elections 2019 in Maharashtra and Haryana.
Subscribe to our YouTube channel, like us on Facebook or follow us on Twitter and Instagram for latest news and live news updates.