Srinagar:
Farooq Ahmad Dar, who was tied to an army jeep and paraded during the violence-hit April 9 by-polls in Srinagar, had cast his vote before he was used as a "human shield", a police investigation has confirmed.
Dar, a Kashmiri shawl maker, had preserved his voting slip.
The police report has said that Dar "had cast his vote at a polling booth in his native village" and was "picked up by the army during stone pelting and tied to the bonnet of a vehicle as human shield under threat". It also says he was "kept under wrongful confinement" and was paraded before he was released.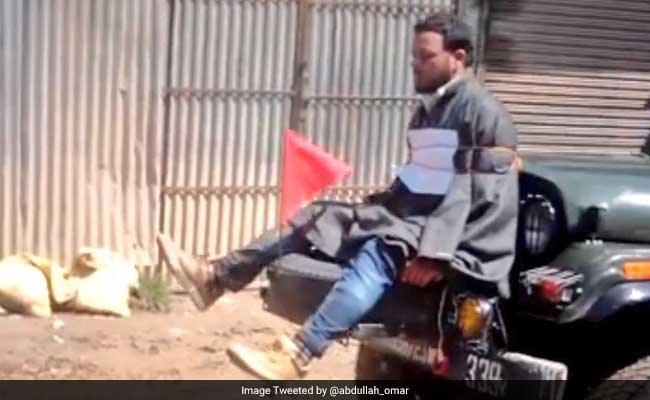 The army is yet to comment on the report. Sources say it is waiting for the report.
"I am happy today, for six months I was saying that I cast my vote and today my stand has been vindicated, I want that justice must be done," Dar told NDTV.
Condemned over the images of Dar as a human shield - widely circulated on social media -
the army had said that its move saved a dozen lives.
Major Leetul Gogoi was the officer who, responding to an SOS from poll officials and security personnel trapped inside a booth, decided on this tactic. His team was attacked by protesters who threw stones and petrol bombs at them. Major Gogoi said he had to act fast to evacuate the officials and others, so he tied Dar to the bonnet of his jeep, which then led a convoy to safety.
"It was done only to save the local people. Had we opened fire, there would have been a dozen casualties... I got a fraction of a moment to get out safely. I saved at least 12 lives," said Major Gogoi, who received a Commendation Card from Army Chief Bipin Rawat.
Major Gogoi had accused Dar of instigating a stone throwing mob and had alleged that he could have been their ring leader. The police report counters that version.
Dar told NDTV: "They were saying that I am a stone pelter, but now today it has been proved than I am not a stone-pelter, I am an Indian, but they still they tied me to the vehicle and they don't trust me."
The Mehbooba Mufti government is yet to act on the state human rights commission's recommendation that Dar be paid Rs 10 lakh as compensation.
Former Chief Minister Omar Abdullah tweeted: "Farooq Dar has been damned by the people who wanted the election boycotted and he's been damned by the establishment that wanted people to vote."