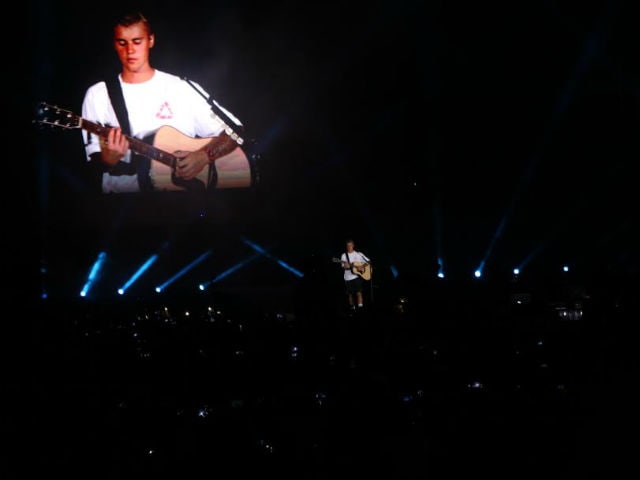 Highlights
"Would have been happy if he would have sung live," said Anurag Basu
Justin Bieber played to a 45,000-strong crowd at D Y Patil Stadium
"It's quite clear that he is not singing these songs," said a fan
New Delhi:
Justin Bieber came, sang but didn't quite conquer
, it turns out. Reviews of the singer's concert in Mumbai last night are fairly brutal and fans, many of whom are pre-teen, are furious that much of the performance was lip-synced. Just four of his 21 song set-list were sung live. There are also reports of mismanagement - there weren't nearly enough toilets and water was overpriced, says some news outlets; actress
Bipasha Basu came and left because organisers allegedly failed to give her a VIP car pass
. Some of this is true - NDTV's correspondent at the venue paid Rs 100 for his first bottle of water, Rs 150 for the second; a glass of Coca Cola cost Rs 100. The crowd at the venue, Navi Mumbai's D Y Patil Stadium, was 45,000 - the stadium can hold about 56,000 - and toilets might have been crowded but possibly not insufficient.
The lip-syncing was another matter entirely. Filmmaker Anurag Basu, who took his daughter to watch the concert, told news agency PTI, "I would have been happy if he would have sung all songs live. He only sang four songs live. An artist of his calibre should sing live. He was not prepared." Mr Basu was one among a clutch of celebrities who had showed up to the concert - among them
Sridevi, Alia Bhatt, Malaika Arora and others
. Justin, 23, played to a 45,000-strong crowd at Navi Mumbai's D Y Patil Stadium amid high security and dizzying levels of excitement.
The excitement was due to the fact that the Canadian singer's Indian audience
have been petitioning him to play here for many years. Now that he has, it appears that the concert was not entirely
paisa vasool
- the cheapest tickets were priced at a little over Rs 5,000 and fans who paid big money and waited all day to hear him (
Justin Bieber went on at 8 pm, 'Beliebers' had queued up starting 9 am)
aren't pleased at all. "It's quite clear that he is not singing these songs," an irate man from Pune who had paid Rs 36,000 for his pass told PTI. Another fan said, "I attended Coldplay's concert and I think that was much better than this. Justin's performance was low on energy and the worst part was he was lip-syncing to many of his songs." An angry mother of a 10-year-old 'Belieber' told PTI, "I wish I had not paid a bomb for this awful concert."
On Twitter, some are asking if it's too late for Justin Bieber to say he's Sorry. Sonali Bendre hashtagged her tweet #wasteoftime:
Biebered out!!! Missed d efficiency of @WizcraftIndia n d personal touch of @WizAndreTimmins#wasteoftime

— Sonali Bendre Behl (@iamsonalibendre) May 10, 2017
AIB's Ashish Shakya tweeted:
Bieber was so bad it was hilarious. He had the stage presence of khichdi. Plus kaafi lip sync.



(Lucky that my tickets were free :D)— Ashish Shakya (@stupidusmaximus) May 10, 2017
That Justin Bieber lip-synced should surprise nobody. It is a short cut that several musicians take and all too often - Beyonce controversially lip-synced the American national anthem at President Obama's inauguration in 2013, and has been known to lip-sync much of her set list at concerts. That Justin Bieber should have been low energy on stage should also surprise nobody - he's been on the road with his Purpose Tour since February and has already played at 22 locations including Australia, Mexico, Brazil and Dubai. The tour ends in September and he still has South Africa, much of Europe and North America to cover. None of this is any consolation for disappointed fans.
Justin Bieber's next concert date is May 14 in Johannesburg. He's flown out of India already, cancelling his scheduled visits to New Delhi, Jaipur and Agra, an organizer told PTI. The singer also arrived in India later than expected - he extended his stay in Dubai for a couple of days and only landed in Mumbai very early on Wednesday morning. He was greeted by a crowd of fans, some of whom had been camping outside the airport for three days. For them, and for other 'Beliebers' at the concert, the lip-syncing was Cold Water.
(With inputs from PTI)