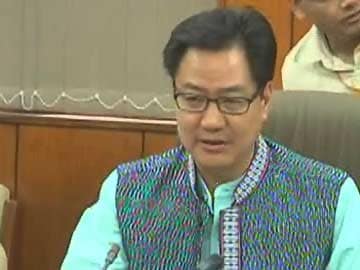 New Delhi:
Minister of State for Home Kiren Rijiju will visit Assam on Saturday to take stock of the security situation in the state following killing of a Superintendent of Police and a policeman by a militant outfit.
Mr Rijiju will visit Assam following a directive of Home Minister Rajnath Singh, who reviewed the security situation in the insurgency-hit north eastern state.
"I have asked MoS Home Kiren Rijiju and JS (Joint Secretary), MHA to visit Karbi Anglong in Assam tomorrow," Singh tweeted on Friday.
The Karbi Peoples' Liberation Tigers (KPLT) militants killed a Superintendent of Police and another policeman in Assam's Karbi Anglong district and their bodies were found this morning.
"Today we lost two brave policemen during police action against KPLT in Karbi Anglong region of Assam. I salute them for their sacrifice," the Home Minister said.
During the visit, Mr Rijiju is expected to hold a meeting with state government officials and take stock of the law and order situation.
KPLT mostly operates in one district, Karbi Anglong.
Despite having very few members as its cadre, KPLT has been unleashing a reign of terror and was involved at least 50 violent incidents in last three months, officials said.
At least 20 people, including policemen, were killed and several crore of rupees were extorted from businessmen, especially contractors, by the outfit, halting development works.
Get Breaking news, live coverage, and Latest News from India and around the world on NDTV.com. Catch all the Live TV action on NDTV 24x7 and NDTV India. Like us on Facebook or follow us on Twitter and Instagram for latest news and live news updates.