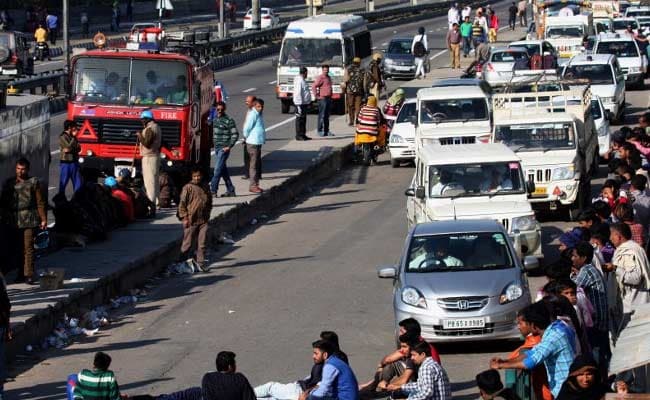 Chandigarh:
Curfew was lifted in Hisar district today and relaxed in violence-hit Rohtak and Bhiwani districts while rail and road traffic resumed on routes which had remained blocked for over a week due to the Jat quota agitation that claimed 19 lives.
In Bhiwani, one of the worst-affected districts in the agitation, authorities gave a four-hour relaxation in curfew as the situation was improving, officials said.
Curfew was lifted from Hisar and its nearby town Hansi, though prohibitory orders under Section 144 banning assembly of five or more people will remain in force.
Day-long relaxation in curfew was given in Rohtak, the epicentre of the pro quota agitation in Haryana, where extensive damage has been caused to property that includes destruction of many shops, showrooms, hotels, malls and vehicles.
"The situation is peaceful in Rohtak city today. No untoward incident has been reported from anywhere," a senior police official said.
Both Chief Minister Manohar Lal Khattar and former Chief Minister Bhupinder Singh Hooda, who visited Rohtak yesterday, had to face the ire of traders and shopkeepers, who had suffered heavy losses.
While Mr Khattar was heckled and shown black flags as residents demanded strict action against people who took the city to ransom, Mr Hooda was also ghearoed by the angry traders when he reached his stronghold.
Life was also returning to normal in violence-hit Sonipat, where three people had died in a clash with security forces two days ago.
Security forces were patrolling sensitive areas including Bhiwani, Hisar, Sonipat and Rohtak, officials said.
The arterial Delhi-Ambala National Highway, which had remained closed for four days, was thrown open last evening.
Officials said that protesters had cleared the rail and road blockades and normal traffic across the state had started to resume.
Train services on the Delhi-Ambala-Chandigarh route will be restored this evening from Delhi end after inspection and repair of the track on Ambala-Delhi route.
A railway spokesman said that train service from Hisar has resumed to various destinations, including Delhi, Bhiwani, Rewari, Jaipur, Sadulpur and Ganganagar following removal of blockades and safety clearance of the tracks.
Bus service from Hisar to various destinations including Chandigarh, Delhi and Rohtak has also been restored, General Manager of Haryana Roadways, Hisar, Ram Kumar said.