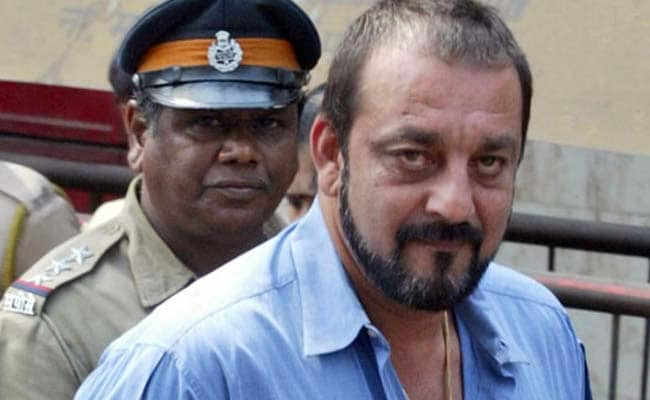 Mumbai:
Sanjay Dutt, who was lauded for his role as a criminal-turned-Radio Jockey in the popular film 'Lage Raho Munnabhai', has met similar success as RJ and producer at Yerawada Central Prison's radio station.
Last month, the convicted Bollywood star started hosting a new show called 'Aap ki Farmaish', which takes requests for songs, poetry and even film dialogues.
And, with a little less than a month to go before Dutt is released, most of the inmates are dedicating their requests to him.
Pune's Yerawada jail holds 4,133 inmates in the Anda cell, high security cell and 30 barracks. The radio channel was started in July last year, to improve inmates' recreation and keep them engaged in their work.
Started on a pilot basis, the radio station became so popular that it now operates in the weekends as well.
Dutt, who is currently serving his sentence in Yerawada jail in a case related to the 1993 Mumbai blasts, was a natural choice as an anchor for the shows.
The actor also makes paper bags in prison, and doubles as an RJ with three other inmates. Now hosting Aap ki Farmasish, the actor gets daily requests to play a couple of songs from his movies and deliver at least one of his famous dialogues.
A total of four shows are aired every day, from 11 am to 2 pm, as the inmates work and have lunch. These shows are planned and run by Dutt and his three fellow inmates, under the guidance of jail officials.
Explaining the process, a prison source said, "Suggestion boxes at kept at all 30 barracks in the jail, through which inmates can send their requests to play songs, shayari or even poems written by them. The four RJs and prison officials prepare a theme based on these requests, and based on the availability of songs, the shows are planned starting a day in advance."
Another official said, "Sanjay Dutt begins the show in typical Munnabhai style and greets his listeners with 'Namaskar bhai log'. There are speakers outside all the barracks and work areas, so inmates can enjoy the shows during work and lunch. Daily, there are different themes based on festive occasions or on current affairs. Now that some of the inmates are aware that Dutt will be released in a month, his fans here are mostly requesting dialogues and songs from his films like Munna Bhai MBBS and Lage Raho Munna Bhai."
Songs like Sandese aate hain (from Border) are also very popular, and many shows are also themed around celebrity birthdays, picking songs from the birthday boy or girl's films. The inmates also send in dedications for their family members or wish each other on birthdays through Dutt's show.
Bhushan Kumar Upadhyay, additional director general (Prisons) said, "Music is a healing process that touches the soul and helps to express humanity. We do not see Sanjay Dutt as star but an ordinary convict. He was short-listed for the radio station because he has the talent."
-----------------------------------------------------------------------------------------------------------------------------------------------------
Prison radio
The radio station is situated near the prison's administrative office in a 20X10 metre room. There are various slots - starting with Dutt's greeting and dialogues, current affairs in the city, positive new events and then songs. There are also talks by various spiritual gurus and usually one patriotic song every day. The planning process starts a day in advance; the suggestions are collected around 6 pm and scrutinised by the jailor, after which the four RJs go through them. Pre-recording is done around 9 am the next day, and the shows air two hours later.
Dialogues in demand
'Asli hai asli. Pachaas tola. Kitna? Pachaas tola.' (From Vaastav)
'Full confidence mein janeka aur ekdum vinamrata ke saath karneka.' (Lage Raho Munna Bhai)
'Apun ke pass Bapu hai Mamu!' (Lage Raho Munna Bhai)
Other activities
Televisions with Doordarshan
Library
Volleyball
Chess
Carrom
(This story has not been edited by NDTV staff and is auto-generated from a syndicated feed.)