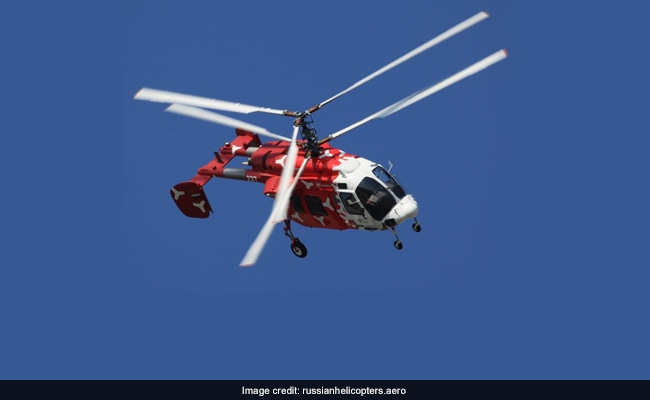 Moscow:
An Indo-Russian joint venture to produce the Kamov military helicopters under a USD 1 billion deal has been registered in India and efforts are on to co-produce them, a senior official of the Russian defence major Rostec has said.
The joint venture was registered in May, said Victor Nikolayevich Kladov, the head of the Department of International Cooperation and Regional Policy, Rostec State Corp, Russia's umbrella organisation for 700 hi-tech civilian and military firms which was established in 2007.
In October last year, India and Russia finalised a broad agreement for the Joint Venture between Hindustan Aeronautics Ltd (HAL) and two Russian defence majors.
India is procuring Kamov choppers to replace its ageing Cheetah and Chetak helicopters.
Sixty Kamov-226T helicopters will be supplied to India in fly-away condition, while 140 will be manufactured in India under a USD 1 billion deal inked in 2015.
"We are very happy to know that the joint venture has finally been registered by the Indian Government in May,"
Kladov told reporters here ahead of the MAKS-2017 airshow that began today in the Russian town of Zhukovsky near Moscow. The airshow will continue till July 23.
"Everything will be in the hands of the joint venture. Now initiative all goes to this joint venture," Kladov said. "It is registered in India because judicially it is in India. It was approved by the Russian Government in April and then after having been approved by the Russian government, it was registered in India," the top Rostec official said.
The agreement for the Kamov choppers was signed during Prime Minister Narendra Modi's visit to Russia in December, 2015. In October last year, Russian Helicopters, Rosoboronexport and India's HAL Corp had almost completed the formalities for the joint venture to localise the production of Ka-226Ts and deliver them to the Indian market.
On the supply of S-400 Triumf anti-aircraft missile systems to India, Kladov said, "We are talking already". "There is a G to G (government to government) agreement on this subject and parties are in the midst of negotiations," he said.
Asked about the upgrading of Sukhoi Su-30MKI, Kladov said the Indian government is "evaluating" it.
"This question as far as I know was raised between President Vladimir Putin and esteemed Prime Minister Modi in St Petersburg last month. The Indian prime minister once again reiterated that the Indian side needs time to evaluate its strategy of development and how to spend money," Kladov said.
"We are offering a package for modernising the Su-30 aircraft. It will obtain new capabilities, it will be very close to the fifth generation aircraft in capabilities. This is a deep modernisation, everything should be changed engine, radar etc," he said.
Kladov said it was up to India whether it wants to pick up the entire package or opt for selective modernisation. "The Indian Air Force has to evaluate its strategy and then take a decision," he said.
On reports that the Indian Air Force has been planning to order more Mi-17V-5 chopper for long, he said, "We are waiting for an invitation to negotiate. It's been quite a long time. It was announced...and delayed a few times because of budget complications or whatever, but we expect this to happen later this year."
(This story has not been edited by NDTV staff and is auto-generated from a syndicated feed.)