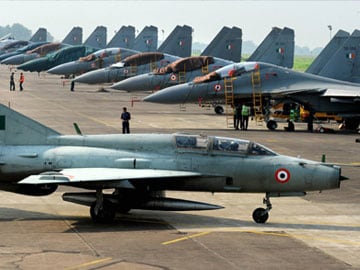 Jodhpur, Rajasthan:
The Indian Air Force on Sunday scrambled fighter planes from its air base in Jodhpur after two commercial passenger aircraft sought to enter Indian territory from the Pakistan side using similar identification codes, sparking a security alert.
Two MiG-21 fighter aircraft were sent from Jodhpur air base to investigate a Turkish Airlines plane over Jaisalmer this morning when it repeated an identification code, which is unique to an aircraft, given by another commercial passenger plane that had already entered Indian airspace before it.
The Delhi-bound passenger plane, however, was later allowed to proceed after its credentials were verified correctly, an IAF official said.
Identification codes are issued to commercial airplanes to establish their identity before they enter the territory of any particular country during international flights.
The first aircraft entered the Indian territory using its identification code and doubts were raised when the second aircraft gave out the same code, an IAF spokesperson said.
Two MiG-21 Bison fighter jets were sent to intercept the aircraft and it was later allowed to proceed towards its destination only after the fighter jets verified its credentials correctly, he said.
Sources said the commercial airliner from Turkey was on its way to Delhi after flying over Pakistan.
The aircraft was picked up by Indian Air Force's radar unit based near Jodhpur.
As part of standard operating procedures, the IAF scrambles its fighter aircraft and alerts its air defence units if any unidentified aircraft or any other flying object is seen its zone over Indian Airspace.
Jodhpur in Rajasthan is nearly 600 km from Delhi and 280 km from Jaisalmer.
Get Breaking news, live coverage, and Latest News from India and around the world on NDTV.com. Catch all the Live TV action on NDTV 24x7 and NDTV India. Like us on Facebook or follow us on Twitter and Instagram for latest news and live news updates.