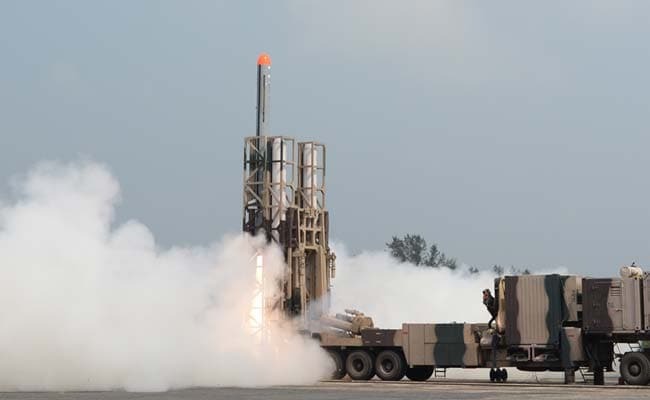 India successfully test-fired its first domestically built nuclear-capable long-range cruise missile Friday, marking another step in building up the country's defence prowess.
The "Nirbhay" ("fearless") missile blasted off from a mobile launcher at the Integrated Missile Test Range in Chandipur in Odisha.
Today's success comes after the subsonic missile's first test launch in March 2013 had to be aborted midway after it veered off course. The missile flew perfectly in its 70-minute mission and covered a distance of over 1000 kilometers.
Nirbhay can identify and strike targets in heavily populated areas with pin-point accuracy. It can also carry a nuclear warhead.
'We have met the target we had set for ourselves," said Dr Avinash Chander, head of the Defence Research and Development Organisation (DRDO). "The entire mission performed in copy book style," he said.
The surface-to-surface missile is fitted with a turbojet engine and is capable of flying at low altitudes to avoid detection. It can even hover near the target, striking from any direction without being seen on radar.
The missile is intended to cruise like an aircraft, helped by its small fins which allow great maneuvering; it can be launched from land, sea and air.
With a range of more than 1,000 kilometres, the Nirbhay is regarded by military experts as India's version of the US Tomahawk cruise missiles. Many more tests are needed before this weapon system is inducted into services.
Over 200 scientists including many women toiled for over three years to taste success.
India is developing the missile system to strengthen its air-defence capabilities. It already has in its arsenal the supersonic BrahMos missile which it developed jointly with Russia. In 2012, it successfully launched its nuclear-capable Agni V ballistic missile with a range of more than 5,000 kilometres.
The Indian military views the Agni V missile as a key boost to its regional power aspirations and one that narrows - albeit slightly - its huge gap with China's technologically advanced missile systems.
While the shorter-range Agni I and II were mainly developed with Pakistan in mind, later versions with longer range reflect the shift in India's military focus towards China.
This missile system takes India into an exclusive club which includes US, Russia, France, China and Pakistan who have mastered cruise missile tech development.