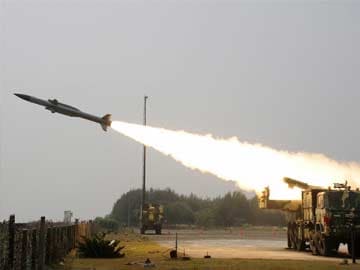 Bhubaneswar:
India successfully test fired the medium-range surface-to-air missile Akash on Wednesday from a defence base in Odisha, an official said.
The indigenously developed missile, with a 27-km range and an effective ceiling of 15 km, was test fired from the Integrated Test Range in Balasore district, 230 km from Bhubaneswar.
"This flight trial was last among the validation trials being carried out by the army on the first-off production models of Akash supersonic missile," Defence Research and Development Organisation (DRDO) spokesman Ravi Kumar Gupta told IANS.
The supersonic missile intercepted a very small unmanned fast moving Banshee aerial vehicle at 30-metre altitude above sea level, proving the system's capability against subsonic cruise missiles.
The sophisticated multi-function radar with built-in features tracked the low flying target continuously throughout its course, Gupta said.
With this flight trial, the Indian Army accomplishes all the validation trials on the first-off production models and the system is being delivered for induction, he added.
Avinash Chander, DRDO chief and scientific advisor to defence minister, congratulated the scientists, production agencies and the army for the successful demonstration of intercepting the target in a low altitude near-boundary mission.
"While indigenous development, production and induction of Akash is making very significant contribution to India's self-reliance in air defence technologies, Akash also has great export potential," he added.
The 700-kg all-weather Akash missile can carry a 60-kg warhead at speeds of up to Mach 2.5. It can operate autonomously and simultaneously engage and neutralise different aerial targets.
It can be launched from static or mobile platforms, enabling flexible deployment by the armed forces.
The Akash mobile air defence weapon system has been designed, developed and led to production by DRDO for defending and protecting the important assets of the country from penetrating aerial attacks.
It has completed all the development flight tests, user trials and the system is in production for the army and air force.