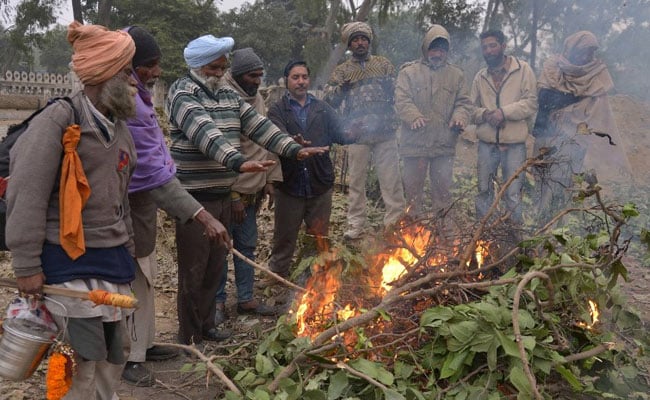 New Delhi:
The intense cold spell continued in the hilly states in north India even as air, road and rail travellers faced cancellations, suspended services and delays with heavy fog shrouding the plains today.
The freeze continued to grip Jammu and Kashmir and Himachal Pradesh, which recorded minimum temperatures several degrees below the freezing point.
The New Year brought chill to Punjab, Haryana, Rajasthan, Uttar Pradesh and New Delhi. Heavy fog added to the woes of commuters in the region.
Thousands of people were stranded as around 400 trains were delayed due to fog last night. Till 6:30 am, 56 trains were late, 20 rescheduled and 15 cancelled.
Over 300 flights were delayed and eight cancelled as dense fog severely hampered visibility at the Indira Gandhi International airport in the capital city.
Nearly all flights arriving into and departing from Delhi were affected. About 265 domestic flights and 67 international flights were delayed. There have been eight cancellations so far, all of which were domestic flights.
No take-offs could take place between 7:30 am to 9:30 am. This was because runway visual range (RVR) was between 100-125 metres, while aircraft require more than 125 metres RVR for take off.
Delhi had a low of 5.7 degrees Celsius and a high of 20 degrees Celsius.
The day's average air quality index was recorded at 400, classified as 'very poor' by the Central Pollution Control Board.
In Jammu and Kashmir, Srinagar ushered in the New Year under freezing conditions as the city recorded the coldest night of this winter with a minimum of minus 4.4 degrees Celsius.
Leh in the cold desert of Ladakh recorded the lowest temperature (-14.5 degrees Celsius) in the state.
The mercury in Qazigund in south Kashmir settled at a low of minus 3.4 degrees Celsius. Kokernag town recorded a low of minus 2.4 degrees Celsius while Kupwara town in north Kashmir registered a low of minus 4.0 degrees Celsius last night.
Kashmir is currently under the grip of Chillai-Kalan a 40-day harshest period of winter when the chances of snowfall are most frequent and maximum and the temperature drops considerably. It ends on January 31, but the cold wave continues even after that in the valley.
High-altitude tribal areas and mountain passes in Himachal Pradesh groaned under arctic conditions with the mercury staying 14 to 20 degrees below the freezing point.
Forecasters predicted a prolonged spell of cold weather in the state, where lakes, springs, rivulets and tributaries of major snow-fed rivers have frozen in the higher reaches.
Life moved at a snail's pace in Haryana and Punjab as visibility levels dipped drastically, touching the zero mark at many places due to heavy fog.
Officials said a number of trains were delayed and flight operations were affected due to fog.
Intense cold conditions added to the discomfiture. Hisar in Haryana quivered at 1.6 degrees Celsius, five notches below normal limits, a MeT department official said.
He said it was the season's coldest night in the city.
Narnaul had a low of 3.6 degrees Celsius, Sirsa 5.8, Karnal 8.4, Rohtak 7.1, Bhiwani 7.4.
Chandigarh's minimum was 8.2 degrees Celsius.
At 2.5 degrees Celsius, Bathinda was the coldest place in Punjab. Adampur shivered at 2.8 degrees Celsius.
Ludhiana (4.2) and Faridkot (4), too, reeled under piercing cold. Halwara had a low of 4.9, Amritsar 5, Pathankot 6.4 and Gurdaspur 6.1.