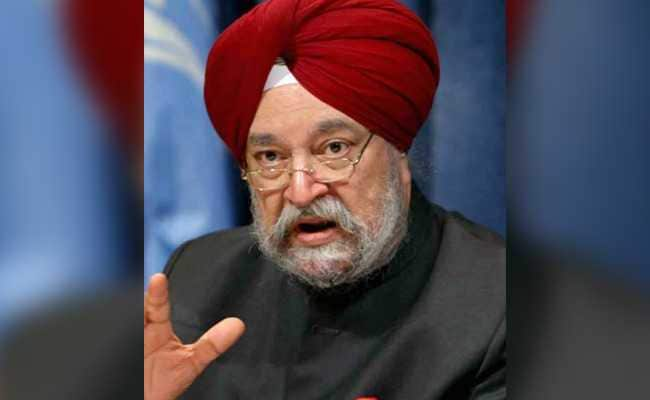 New Delhi:
A day after Arvind Kejriwal expressed his sadness over Delhi metro becoming out of reach for common man, Union Minister Hardeep Singh Puri Thursday said the Delhi Chief Minister should instead look at the state of public transport system that comes under his government which lacks 7,000 buses.
Addressing the 13th Sustainability Summit organised by the Confederation of Indian Industry (CII), Minister of State for Housing and Urban Affairs Puri said Delhi today has the fourth largest metro system in the world, it is a first class asset and most affordable metro anywhere in the world.
"My good friend - the chief minister of Delhi - was expressing sadness that so many people have moved away from the metro. The report has been produced by people who are reasonably credible but they have an agenda where they are not comparing an orange with an orange. What they end up doing was completely falsifying the facts," he said.
"If somebody wants to be sad, they should be sad about the fact that the other public transport in Delhi which comes under the government which has a sanction of 11,000 buses is about 7,000 short," Mr Puri said.
A recent study by the Centre for Science and Environment (CSE) had found that after the fare hike last year, Delhi metro has become the second-most unaffordable service in the world among the cities that charge less than half a US dollar for a trip.
Reacting to the study, Mr Kejriwal Wednesday said it is "very sad" that an important means of transport has become out of reach of common man.
Taking a further dig at Mr Kejriwal, Hardeep Singh Puri said the ridership at any point of time before the hike was 27 lakh and today the ridership has crossed 29 lakh. The study of 2016 which said the ridership would increase to 32 lakh took into consideration the Phase-3 which has not become operational as yet, he added.
The Delhi Metro on Wednesday termed as "misleading" the CSE report which also claimed the Delhi Metro has received nearly 32 per cent less than the number of daily passengers it had hoped to serve this year, saying its earlier projection included Phase-3 which has not become operational as yet.