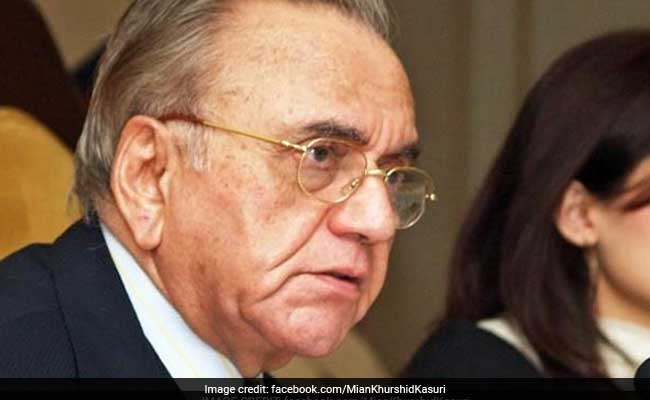 Lahore/Islamabad:
Pakistan's former foreign minister Khurshid Mahmud Kasuri today said even the word 'Gujarat' was not mentioned by anyone at a private dinner hosted by suspended Congress leader Mani Shankar Aiyar in New Delhi last week, over which a huge row has erupted.
Mr Kasuri has suddenly found himself at the center of a controversy after Prime Minister Narendra Modi suggested that the Congress was conspiring with Pakistani leaders to prevent the BJP from winning the election in Gujarat. Addressing an election rally in Palanpur in Gujarat this week, PM Modi claimed some Pakistani officials and former prime minister Manmohan Singh met at Mr Aiyar's house over dinner on December 6.
In an exclusive interview to Press Trust of India, Mr Kasuri said he was unnecessarily "dragged" into Indian politics, when none of Pak-India domestic issues came up for discussion at the dinner.
"Let me tell you that no discussion whatsoever took place about the internal politics of India or Pakistan. Even the word 'Gujarat' was not mentioned by any participant of the meeting during the discussion," Mr Kasuri asserted.
"I am surprised and pained that my name has been dragged into Indian domestic politics - surprised because of the nature of the allegations and apparently anti-Pakistani sloganeering can perhaps can still garner votes in India," he said.
To a question as why PM Modi alleged Pakistani interference in Gujarat polls, Mr Kasuri said: "...this is most unfortunate as India is a mature democracy. In Pakistan on the other hand, during our election campaigns, Indian is never mentioned."
Sharing the guest list at the dinner, Mr Kasuri said former PM Manmohan Singh, ex-vice president Hamid Ansari, former minister K Natwar Singh, Pakistan High Commissioner to New Delhi Sohail Mahmood, some former Indian higher commissioner to Islamabad, defence analysts and well-known journalists were also present.
"Sohail Mahmood was invited since the dinner was organised for a former foreign minister of Pakistan," he said but feigned ignorance about the presence of any Pakistani former intelligence official in the meeting. "I am not aware of it (presence of Pakistani intelligence official)."
Mr Kasuri said that he has also links with politicians from PM Modi's BJP and was instrumental for the visit of LK Advani to Pakistan.
"On my invitation, Advani visited to Katas Raj (Hindu holy place) in Pakistan. The impression given in media that I have only links with Congress men is wrong," Mr Kasuri said.
He remembered Mr Aiyar as old "friend from Cambridge days" and said the presence of "dignitaries" at the dinner was due to his "involvement with the peace process."
He also took credit for making progress towards resolution of all issues when he was foreign minister of the then military ruler Pervez Musharraf.
"When I was the Foreign Minister we made a lot of progress on all outstanding issues including Jammu and Kashmir," said Mr Kasuri, who served as Pakistan's Foreign Minister between November 2002 and November 2007.
Mr Kasuri said that he has long been involved on the Track II diplomacy and expressed his desire that Pakistan and India must resolve all their disputes through bilateral negotiations. "This (peaceful resolution of disputes) is essential to fight poverty in both the countries," he said.
In his speech, PM Modi had also mentioned Sardar Arshad Rafiq, whom he identified as "Pakistan's former Army director general" for alleged interference in Gujarat polls.
Mr Rafiq has apparently deleted a Facebook post that "our leader and mentor Ahmed Patel (Rajya Sabha member and Sonia Gandhi's political secretary) must be made Gujarat Chief Minister".
Little is known about Mr Rafiq except that he belongs to Palandri area of Pakistani Kashmir and served in the army. He currently lives in garrison city of Rawalpindi, according to his Facebook account.
Earlier, Foreign Office spokesman Dr Mohammad Faisal urged Indian leaders to stop dragging Pakistan in its domestic politics.
"India should stop dragging Pakistan into its electoral debate and win victories on own strength rather than fabricated conspiracies, which are utterly baseless and irresponsible," Dr Faisal tweeted on Monday.