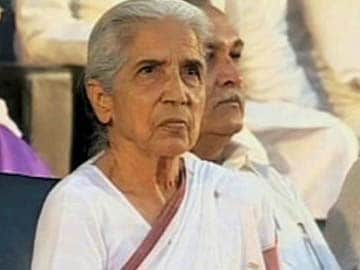 Ahmedabad:
Gujarat Governor Kamla Beniwal, who shared an uneasy relationship with Narendra Modi when he was the Chief Minister of the state, was tonight sent off to Mizoram in a reshuffle of governors set in motion by the government. (
As Modi Government Tries to Force Exits, Governors Push Back
)
Ms Beniwal's tenure ends in November. The 87-year-old had a running battle with the Modi government over the appointment of the state Lokayukta and other legal issues. (
Government vs Governors: 'Who is the Home Secretary to call a Governor?'
)
She will take over from Vakkom Purushothaman, the current Mizoram governor.
Rajasthan Governor Margaret Alva, who will demit office exactly in a month, will shift to Ahmedabad to take additional charge.
During her confrontation with Mr Modi, Ms Beniwal had appointed retired Justice R A Mehta as the Lokayukta in Gujarat. The state government had moved the High Court and later the Supreme Court to appeal against the decision, which the latter upheld last year. (
In Governors vs Government, Spotlight on Sheila Dikshit
)
Justice Mehta refused to take up the post and Mr Modi's government then named a new nominee.
Ms Beniwal also sat over legislations passed by the state Assembly, one of which provided for 50 per cent reservation for women in local bodies.
Earlier, there was speculation that new Governors would be appointed before the Budget Session of Parliament starting tomorrow, in place of those who had quit. Many of them were asked by the new government to put in their papers. (
Governor Ashwani Kumar Gives Government What it Sought: His Resignation
)
Those who resigned after the government's signals are B L Joshi (Uttar Pradesh), M K Narayanan (West Bengal), Shekhar Dutt (Chhattisgarh), Ashwani Kumar (Nagaland) and B V Wanchoo (Goa). (
Goa Governor BV Wanchoo Resigns After Being Questioned by CBI
)
Wanchoo resigned on July 4, the day he was questioned by the Central Bureau of Investigation as a witness in the AgustaWestland helicopter purchase scam. A few days earlier, former National Security Advisor M K Narayanan had also quit as the West Bengal Governor after being questioned by the CBI. (
After Questioning by CBI, Bengal Governor Resigns
)
Two Governors -- H R Bharadwaj (Karnataka) and Devanand Konwar (Tripura) -- were allowed to stay till their tenures ended last month.
A few other Governors appointed by the previous United Progressive Alliance regime continue to remain in office. They include K Sankaranarayanan (Maharashtra), Sheila Dikshit (Kerala), Jaganath Pahadia (Haryana), Shivraj V Patil (Punjab) besides others. (
A Governor Says He's Not Hurt by Call to Quit
)