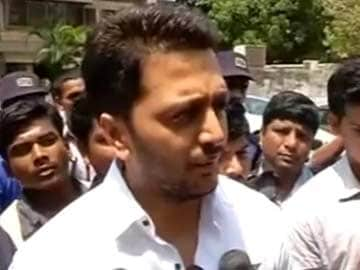 New Delhi:
In Maharashtra politics, there are no enemies, it is said. Ideological barriers do not act as a deterrent to forging relationships. This is borne out by the glowing tributes paid by leaders of all hues to Gopinath Munde, the 64-year-old union rural development minister who died after an accident in the national capital this morning. Among those who mourned his death was actor Riteish Deshmukh, the younger son for former union minister Vilasrao Deshmukh.
"I am shocked beyond words. Apart from being a big leader for me, Munde ji was my father's closest friend - an unfathomable loss," the popular Bollywood actor told reporters on hearing the news about the BJP leader's untimely demise.
"Personally, it's a big loss to me. I knew him very well. He was always smiling. We shared good relations," Riteish added.
Both Mr Munde and Mr Deshmukh hailed from the Marathawada region of Maharashtra. The Congress leader's ancestral village, Babhalgaon falls in the Latur district, while Mr Munde belonged to Parli in neighbouring Beed district. Mr Deshmukh, too, suffered an untimely death in August, 2012 after battling liver cancer. He was 67.
His older son, Amit Deshmukh was only yesterday inducted as a minister in the Prithviraj Chavan government in Maharashtra. He represents Latur city in the state assembly
Mr Munde's older daughter, Pankaja too is an MLA in the Maharashtra assembly. In 2009, she won Parli, the constituency represented by her father before he shifted to the Lok Sabha five years ago.