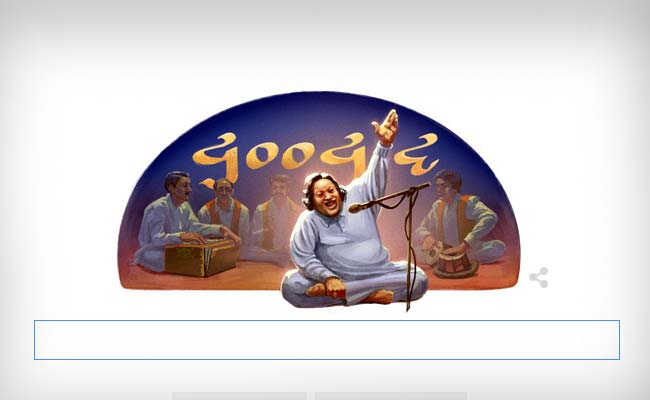 Today is the 67th birthday of one of the greatest Qawwali singer, Nusrat Fateh Ali Khan; and Google pays a tribute to him by its customized doodle.
The doodle showcases a Qawwali (Sufi music) in which Mr Khan is portrayed singing with a mic in front of him; in the background we see other Qawwali walas (singers/ musicians) sitting, singing and playing various instruments like Harmonium and Tabla. The representation of Google's logo is done in a very Arabic manner; you get the feeling of "Arabian Nights" after seeing it.
When you click on the doodle you are taken to the search page where a number of pages are listed full of information on Mr Khan.
Born in the year 1948, Mr Khan passed away at a very early age of 48. He died of a cardiac arrest on August 16, 1997. He is popularly known as "Shahenshah-e-Qawwali", meaning "The King of Kings of Qawwali". Carrying forward the 600-year-old tradition of Qawwali in his family, he is known for his long hour performances and bringing the magic of Qawwali music to international audience.
Mr Khan, in his active years, toured extensively and collaborated with many international artists.
He has also being called as "Elvis" by western music icon Jeff Buckley, he said Nusrat Fateh Ali Khan was one of his biggest influences, and to honor him he often performed few minutes of one of Mr Khan's songs at his concerts.
Later, Mr Khan also went on to release movie scores and albums in Europe, India, Japan, Pakistan, and the US.