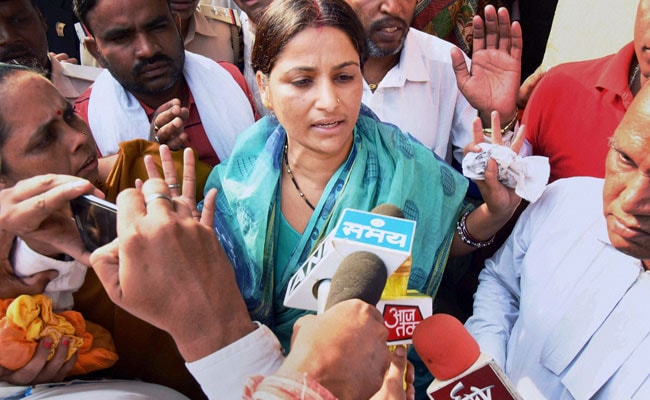 Gaya:
Jalied JD(U) lawmaker Manorama Devi, mother of the prime accused in the murder case of Aditya Sachdeva, today applied for bail in a local court in Gaya district.
This comes a day after she surrendered in a case lodged against her under the Excise Act after liqour bottles were recovered from her residence last week.
Her counsel Md. Sarfuddin and S Siddique filed a bail petition for her client in the court of Additional Chief Judicial Magistrate (ACJM) - IV Om Sagar.
The judge posted the JD(U) lawmaker's bail plea for hearing tomorrow.
She was sent to 14-day judicial custody by the court yesterday soon after she surrendered.
The lawmaker had surrendered in the court of ACJM-IV yesterday in connection with cases lodged against her for recovery of liquor bottles from her house during a police raid in search of her son Rocky Yadav, the prime accused in the Aditya Sachdeva murder case, who subsequently surrendered.
Ms Devi, wife of RJD strongman Bindeshwari Prasad Yadav alias Bindi Yadav, who has also been arrested besides her bodyguard Rajesh Kumar in the Sachdeva murder case, was also slapped with charges for harbouring her son and employing a child as a labourer at her house.
The JD(U) had suspended her after the opposition mounted pressure on the party leadership for action against her for harbouring her murder accused son.
Mr Sachdeva was allegedly shot dead by Rocky Yadav on May 6 last for overtaking his car.