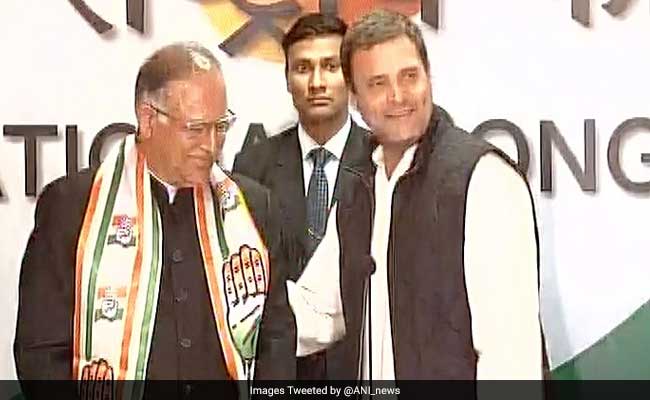 New Delhi:
MP Tariq Hameed Karra joined the Congress on Saturday, five months after quitting the People's Democratic Party (PDP), apparently miffed by the ruling alliance, BJP-PDP. He accused the central government of "mishandling" the situation in Jammu and Kashmir.
Addressing reporters at the Congress party headquarters, Mr Karra said: "When we floated the PDP party in 1999, our basic declaration was against fascist forces and we were focused on how we should take the state out of slumber?"
"But after the 2014 assembly elections, the PDP, which had sought votes against Prime Minister Narendra Modi's polarization politics, joined hands with him," he said.
"That decision forced me to distance myself from the party," he added.
The lawmaker said he tried to distance himself from the PDP even when the late Mufti Mohammad Sayeed was the Chief Minister. "I had started giving them warnings and suggestions," he said.
"I had told them it is not in the interest of the state and Indian polity that we give space to such people and such parties, who have been engaged, since pre-Independence, in putting the social fabric of the country into jeopardy," he said.
He accused the BJP leaders of "politicising" the army.
Tariq Hameed Karra also accused the central government of mishandling the situation in the state in 2016 and said: "When the unrest started in Kashmir in 2016, the BJP-PDP coalition in connivance mishandled the situation and the people of the state."
"They jailed people, they killed people and even blinded the children," he alleged.
"Thus, my conscious did not allow me to remain in the PDP and I resigned," the MP added. Mr Karra resigned from the party on September 16, 2016.
After joining the Congress party, he said he was, "quite happy and elated" with party President Sonia Gandhi and Vice-President Rahul Gandhi's ideas of pulling out Jammu and Kashmir from "slumber".
Mr Karra vowed to fight "fascist forces" and the "RSS menace" in the state and elsewhere in the country, which he said had "created divisions" in the society.
He maintained that Army chief General Bipin Rawat's remarks were "politically motivated". "The force is to save the sovereignty of the country, and politicising the army is very unfortunate," the MP said.
In another development, Congress leader Ambika Soni attacked Minister of State Jitendra Singh for "politicising" the remarks of the Army chief and said, "He politicised the issue."
"If they were so much concerned about the Army, then they should tell why the retired army personnel are sitting on hunger strike for the last two years over the One Rank One Pension issue?" she asked.