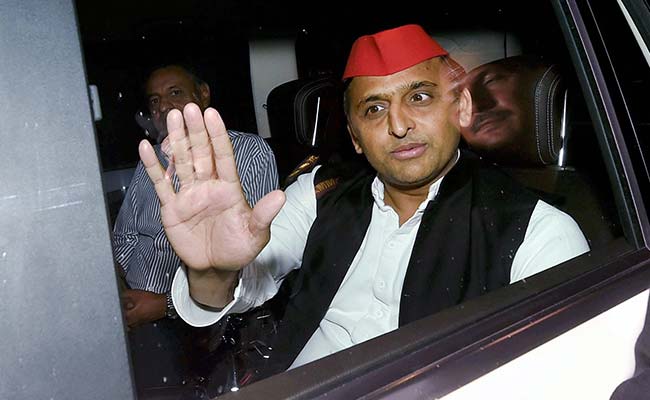 Lucknow:
Akhilesh Yadav, who has pleaded "homelessness" in the Supreme Court to try and hold on to a government allotted bungalow for two more years, challenged the media to "find him a place".
The Samajwadi Party chief and his father Mulayam Singh Yadav have both
moved the Supreme Court
against an order that asks former chief ministers to vacate their official bungalows, and asked for two-year's time.
As he addressed reporters on the bypolls yesterday in Uttar Pradesh, which were clouded by allegations of malfunctioning Electronic Voting Machines (EVMs), Akhilesh Yadav had a ready retort for reporters questioning him about his reluctance to move out.
"We are ready to vacate but we need more time, both netaji (Mulayam Singh) and I don't have any place to live in Lucknow. If you can find a place for us let us know," the former chief minister snapped.
"I think you are deflecting issues," he added.
In his petition before the Supreme Court, Mulayam Singh asks for time citing his age and ill-health. Akhilesh Yadav lists security and his children's education as reasons why he should be allowed to hang on to the bungalow he was entitled to as chief minister.
Another former chief minister, Mayawati, has "turned" her vast five-acre, 10-bedroom bungalow in Lucknow into a
"memorial" for her mentor Kanshi Ram
, the founder of her Bahujan Samaj Party (BSP). A few days ago, a new board was put up outside her bungalow that reads: "Shri Kanshi Ramji Yaadgaar Vishram Sthal".
The UP government served notice to Mayawati, Akhilesh Yadav and four other former chief ministers about 10 days ago, asking them to vacate their official homes in 15 days as ordered by the Supreme Court.
The top court has cancelled changes to the law that enabled former chief ministers of Uttar Pradesh to live in official homes for life, saying that these were "based on irrelevant and legally unacceptable considerations, unsupported by any constitutional sanctity."