Highlights
Former UP chief ministers asked to vacate government bungalows
Mayawati says her bungalow is memorial to her party's founder Kanshi Ram
Cites 2011 order - when she was in power - that reflects change
Lucknow:
Under Supreme Court orders to vacate her palatial five-acre, 10-bedroom bungalow in Lucknow made of Rajasthan sandstone and pink marble, former Uttar Pradesh Chief Minister and BSP Chief Mayawati has made it clear she is not moving out without a fight.
Days after a new board was put up outside her sprawling Lucknow bungalow saying "Shri Kanshi Ramji Yaadgaar Vishram Sthal" - referring to Mayawati's mentor Kanshi Ram, the founder of the Bahujan Samaj Party (BSP), Mayawati's aide and senior BSP leader Satish Chandra Mishra met with the Chief Minister Yogi Adityanath this afternoon.
Mr Mishra was carrying a five-page letter signed by Mayawati herself, and a set of government documents to make the BSP's case about why Mayawati did not need to vacate her bungalow. Chief Minister Adityanath was presented with a set of government orders dating back to 2011 - when Mayawati was the Chief Minister. The BSP says that the documents prove that the 13A Mall Avenue government bungalow of Mayawati was declared a Kanshi Ram memorial on January 13, 2011. The government order also states that Mayawati can stay in the memorial for life as she only uses two rooms and is the effective caretaker of the property.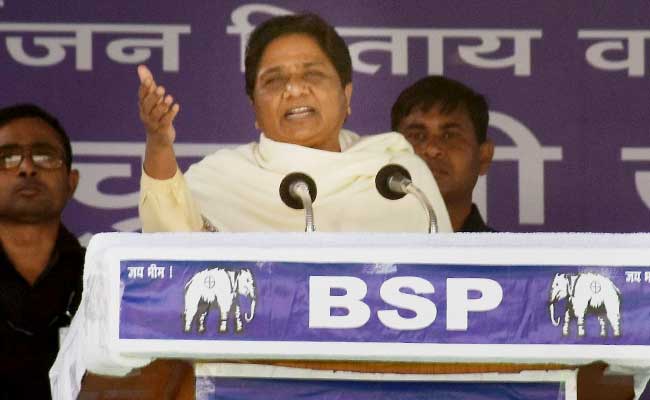 "The bungalow was originally allotted to Mayawati but in 2011 the UP governent decided to convert it to a memorial and it was decided that because Mayawati was using only a small two room portion and the rest has a Kanshi Ram library and murals. The entire premises would be a memorial, on January 13, 2011," Mr Mishra said after the meeting, refusing to take any questions.
BSP sources say the aim is that even if Mayawati has to vacate her government bungalow and move to an equally sprawling private bungalow nearby, the government bungalow remains a memorial and is not allotted to anyone else. In her letter, Mayawati writes about how Kanshi Ram used to stay in the house whenever her visited Lucknow and that the bungalow represents "the aspirations of the poor and the downtrodden across the country".
In her letter, Mayawati also says that the only eviction notice that can be served on her is for another government bungalow in another part of Lucknow that is in her name - a bungalow her security detail reportedly uses.
The UP government last week served notice to Mayawati, Akhilesh Yadav and
four other former chief ministers asking them to vacate their official homes
in 15 days as ordered by the Supreme Court.
The Supreme Court earlier cancelled changes to a law
that enabled former chief ministers of Uttar Pradesh to live in official homes for life, saying that these were "based on irrelevant and legally unacceptable considerations, unsupported by any constitutional sanctity. The local laws gave these benefits to former chief ministers without any element of reasonableness."
Government sources say they will take legal opinion on the matter and then proceed.
Samajwadi Party leader Akhilesh Yadav
, another former chief minister, has written to the state government
claiming he has no other place to stay for now
, given the requirements of his family and his large security detail. He has requested permission to retain his Vikramaditya Road bungalow for two more years. A third chief minister also stays next door - Akhilesh's father Mulayam Singh Yadav.