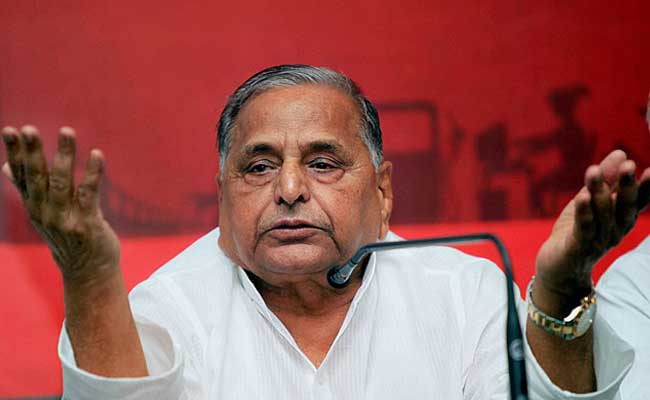 Lucknow:
Samajwadi Party patriarch Mulayam Singh Yadav has sought permission from the Uttar Pradesh estate department to stay in his government bungalow for another two years.
The development comes days after the department served notice on him and five other former chief ministers,
asking them to vacate their government bungalows
within 15 days following a Supreme Court order.
Estate officer Yogesh Kumar Shukla said Mulayam Singh Yadav had yesterday sent a letter seeking two years' time to stay in the 5, Vikramaditya Marg bungalow, which has been forwarded to the law department.
He said the letter earlier sent by his son Akhilesh Yadav to stay in his bungalow for two years has also been forwarded to the law department.
On May 21, Akhilesh Yadav wrote a letter to the estate officer, saying he should be allowed to live in his 4, Vikramaditya Marg residence for two more years as he does not have any other suitable residential premises to accommodate the security he enjoys as a former chief minister.
"The administration has also provided me Z-plus security cover (including NSG commandoes) for which I need adequate space. Being the current national president of Samajwadi Party, I have various visitors," Mr Yadav had written.
The Supreme Court had on May 7 said former chief ministers of Uttar Pradesh cannot retain government accommodation after demitting office, observing that a CM was at par with a common man once his or her term ends.
Following the order, the Uttar Pradesh government on May 17 issued notices to six former chief ministers to vacate their official bungalows.
The notices sent by the estate department has asked them to vacate their bungalows in 15 days, a senior official said.
Those served notices are Narayan Dutt Tiwari, Mulayam Singh Yadav, Kalyan Singh, Mayawati, Rajnath Singh and Akhilesh Yadav.
The Supreme Court was hearing a petition filed by NGO Lok Prahari, challenging the amendments made by the erstwhile Akhilesh Yadav government to the UP Ministers (Salaries, Allowances and Miscellaneous Provisions) Act, 1981, which allowed former chief ministers to retain their government bungalows for lifetime.