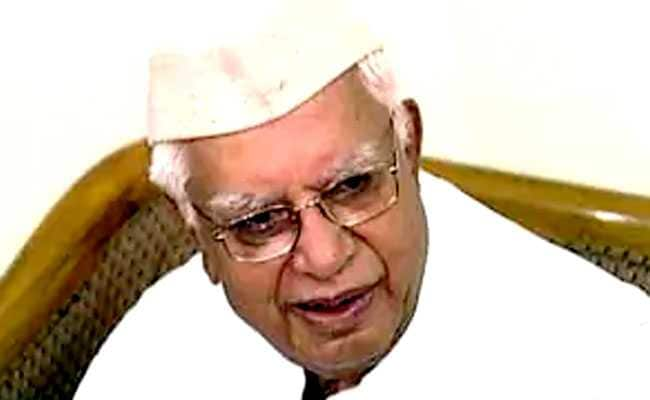 Dehradun:
Former Uttar Pradesh Chief Minister Narayan Dutt Tiwari's wife has requested for a year's time from Chief Minister Yogi Adityanath to vacate the government bungalow on account of the veteran leader's health. She wrote in a letter that Mr Tiwari was ill and in the last stages of his life.
In a letter to Yogi Adityanath, Ujjwala Tiwari said
Mr Tiwari had been undergoing treatment
at a private hospital in New Delhi for eight months and she too was seriously ill. Thus, it was not possible for her and their son Rohit Shekhar Tiwari to be away from the national capital.
"In such difficult and uncertain circumstances, it is not possible for either me or my son Rohit Shekhar Tiwari to be away from Delhi for a long time," the letter in Hindi said.
The 92-year-old leader is among six former UP chief ministers asked by the Uttar Pradesh government to vacate their Lucknow bungalows after a Supreme Court order.
Ms Tiwari said she and her family respected the Supreme Court, but "Mr Tiwari is in the last stages of his life and anything could happen any time."
Also citing Mr Tiwari's contribution to the nation, she said the family should be given at least a year's time to vacate the house at 1A Mall Avenue in Lucknow.
She said the bungalow also houses the Pandit Narayan Dutt Tiwari Sarwajan Vikas Foundation.
Mr Tiwari was chief minister of Uttar Pradesh for four times. He was also the first elected chief minister of Uttarakhand.
He was admitted to the Delhi hospital on September 20 last year after suffering a brain stroke.
The Uttar Pradesh government issued notices on May 17 to former chief ministers to vacate their official bungalows following the Supreme Court order.
Narayan Dutt Tiwari, Mulayam Singh Yadav, Kalyan Singh, Mayawati, Rajnath Singh and Akhilesh Yadav were asked to vacate them.
While Union Home Minister Rajnath Singh and Rajasthan Governor Kalyan Singh indicated their willingness to do so, the others have expressed reluctance.
With inputs from PTI