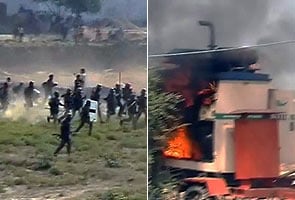 Agra:
The wave of violence at Greater Noida, that saw a bloody farmers' agitation against land acquisition, has now spread to Agra.
Irate villagers, protesting against the land acquisition for the Uttar Pradesh government's Yamuna Expressway project, set on fire the construction company Jaypee Group's camp office.
The local administration feels that the attack is in retaliation to the clash between farmers and security personnel at the Bhatta Parsaul village in Greater Noida yesterday.
(Read: Greater Noida tense after farmers thrash 2 policemen to death)
The clash resulted in four deaths including that of two policemen and two villagers. The area continues to remain tense with heavy police presence. (
Read: Greater Noida tense after farmers thrash 2 cops to death
)
Meanwhile, there is heavy police deployment in the village in Agra also.
The agitation is also spreading to other areas as well. Reacting to yesterday's violence, around 50 to 100 farmers, in the Ghangoli village near Mathura, chased away workers of a construction company and burnt down two temporary shelters made for them.
PTI adds:
Four policemen were today injured when agitating farmers clashed with police and torched vehicles in Chaugaan village here over the land acquisition row .
Farmers turned violent during a protest and indulged into arson, Special Director General of Police (Law and Order) Brij Lal said in Lucknow.
He said that the angry villagers torched several vehicles and tents. The farmers were protesting against land acquisition for the Yamuna Expressway in the area.