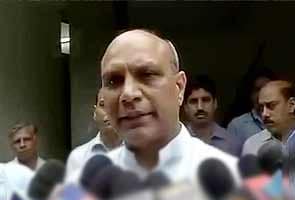 New Delhi:
There are indicators that Union HRD Minister Pallam Raju, who had tendered his resignation following the decision to carve out a separate Telangana, may be having a change of heart.
Mr Raju met Congress President Sonia Gandhi today who told him not to act in haste and to work towards finding a resolution to the numerous issues which have cropped up. This was his second meeting with Mrs Gandhi in two days after being unhappy over the Centre's decision to create Telangana.
"Yesterday, I had decided to resign. So I went to meet her and requested her that I would like to resign from the post of minister but she gave me the same advice that was given by the Prime Minister that I should not act in haste and that I should try and find a resolution to the numerous issues by working with the GoM and with other leaders from all over Andhra Pradesh", he told reporters after meeting Mrs Gandhi.
Mr Raju said he updated Mrs Gandhi about the happenings in the state subsequent to the Cabinet decision on Telangana on Thursday.
"There are very genuine concerns. There are concerns related to sharing of water. There are concerns related to Hyderabad, of concerns of people living in and around Hyderabad," he said.
The minister said the Congress President told him that there is a Group of Minister (GoM) on Telangana that is looking into these issues and that he should work with them.
The Centre's decision to create Telangana has triggered further protests in Seemandhra region and a flurry of resignations by union ministers and MPs opposed to the division of Andhra Pradesh.
So far, apart from Mr Raju, other ministers from Seemandhra who have put in their papers are Kotla Surya Prakash Reddy (MoS for Railways), K Sambasiva Rao (Textiles), K Chiranjeevi (Tourism), D Purandeswari (MoS Commerce) and Killi Kruparani (MoS IT and Communications), though none of these resignations have been accepted.