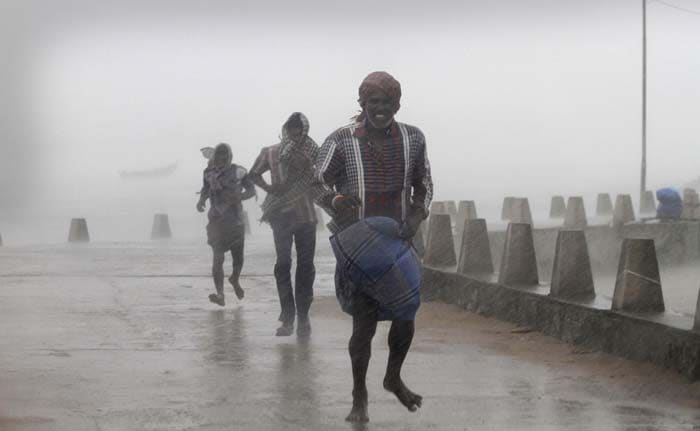 Kendrapara:
Precaution has become the prime concern for people of the seaside villages of Kendrapara and Jagatsinghpur districts as they do not want to take chances for the incoming cyclone Hudhud.
"On October 29-30, 1999, super cyclone wiped out our village. Over 900 people perished then. People threw caution to the winds and exposed themselves to marauding tidal waves. They paid a heavy price for that," recounted a fisherman of Sandhakuda, S Ramamurthy.
"Now things are different. We faced Phailine cyclone stubbornly last year and have encountered cyclonic situation over a dozen of times in past years," he said.
Having paid the price for ignoring the 99-cyclone warning, people from vulnerable pockets have grown vigilant since then. Alertness and preparedness to face calamity have evolved from the grass root level, officials said.
"There is no power supply in our village since last night. We are tuned to hourly radio updates of AIR Cuttack.
"Weather prediction says cyclone Hudhud would be less severe in our areas. We are keeping close watch. If gusty winds persist, we will be forced to shift ourselves to the safety of cyclone shelter," said an ex-Sarpanch of seaside Ramnagar gram panchayat.
"We are scared of ingress of tidal waves. So it is a better proposition to move to safer place particularly during night hours. Why should we wait for the government to act," said a native of remote seaside Kansarabadadandua village, Chandan Manna.
"The 1999 cyclone disaster has taught us the lesson not to ignore weather warning. Whenever there is forecast of depression and storm, fishermen have been staying away from fishing voyage. People here have made it a moot point to relocate to double storey pucca building and shelter houses," said a local of Ambiki village, Haripad Bhuyan.