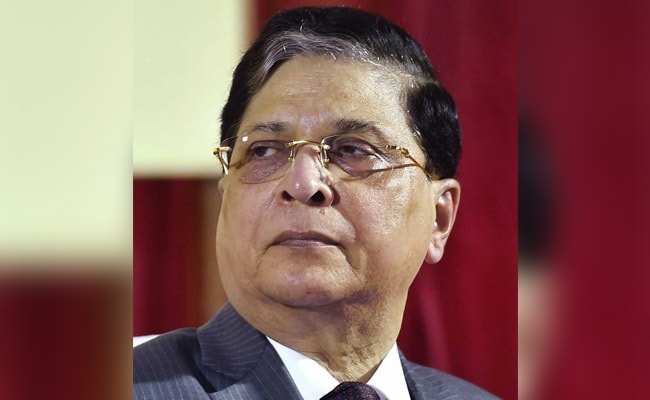 Highlights
Congress withdrew its petition on impeachment move against Chief Justice
Who passed the order to refer the case to the five judges: Kapil Sibal
"A person cannot be a judge in his own cause": Kapil Sibal
New Delhi:
Just a day after going to the Supreme Court, the
Congress abruptly withdrew its petition
today on the impeachment move against Chief Justice of India Dipak Misra, which was rejected recently by Vice President Venkaiah Naidu. The petition moved by two Congress lawmakers had said the rejection of the opposition's impeachment notice was "illegal and arbitrary".
Senior Congress leader and lawyer Kapil Sibal questioned the decision to assign the case to a five-judge constitution bench through an administrative order. "The Chief Justice can't pass such orders," Mr Sibal said, questioning who passed the order.
"There is no judicial order, so who on the administrative side passed the order to refer the case to the five judges? If the Chief Justice did it, then petitioners are entitled to know."
Justice AK Sikri, who was leading the bench, asked Mr Sibal: "Are you challenging this bench?"
The Congress leader replied, "No my lordship, I am questioning the administrative order. We want to know who passed the order."
Speaking to reporters later, Mr Sibal said there were "no personal motives" in withdrawing the petition.
Last month, a
petition signed by over 60 Rajya Sabha parliamentarians
called for Justice Misra's impeachment six months before he retires. The
motion "doesn't deserve to be admitted"
, Mr Naidu, the chairman of the Rajya Sabha, said just three days later.
The centre's top lawyer KK Venugopal said only two MPs of the Congress had approached the top court and it indicated that other parties did not support challenging Mr Naidu's decision in court.
As the Congress withdrew its petition today, there was instant speculation that the party was trying to cut its losses, that it realized its petition was not legally strong.
Mr Sibal, also a signatory to the
impeachment notice
, had yesterday asked for the listing of the case before Justice Jasti Chelameswar, the second most senior judge after the chief justice and one of the four judges who went public with their criticism of the way sensitive cases were being assigned by the Chief Justice.
When the judges referred to the role of the Chief Justice as "master of the roster" - the one to decide on assigning of cases - Mr Sibal pointed out that the impeachment notice was against the Chief Justice. "A person cannot be a judge in his own cause," he said.
On Monday evening, it was announced that five judges - the senior most ranks sixth in the Supreme Court hierarchy - would take up the petition. Neither the Chief Justice nor the four "dissenting" judges, who rank after him in seniority, were included.