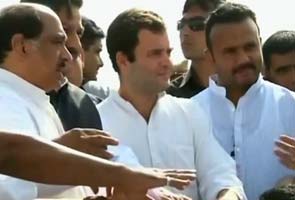 New Delhi:
Congress is organising a workshop dedicated to the social media on August 23, which is expected to be addressed by Rahul Gandhi.
The workshop follows a two-day media session organized by the party on July 22-23 to tone up the party's communication strategy and to institutionalise a framework for it in all states ahead of Lok Sabha elections.
There is a realization in Congress that the principle opposition Bharatiya Janata Party and its poll mascot Narendra Modi in particular, are way ahead in their presence on social media and there have been attempts by the ruling party at the Centre to take on the Gujarat Chief Minister on Twitter.
The latest example of the political war between the Congress and the BJP in the cyberspace was 'www.Fekuexpress.com', a website developed by Congress supporters on Sunday that ridicules Mr Modi's claims and promises.
Congress supporters had used different hashtags starting with Feku name on Twitter earlier also to ridicule Mr Modi's development claims.
BJP supporters had created a hashtag NamoinHyd and there was quite a contest between fekuexpress and NamoinHyd yesterday.