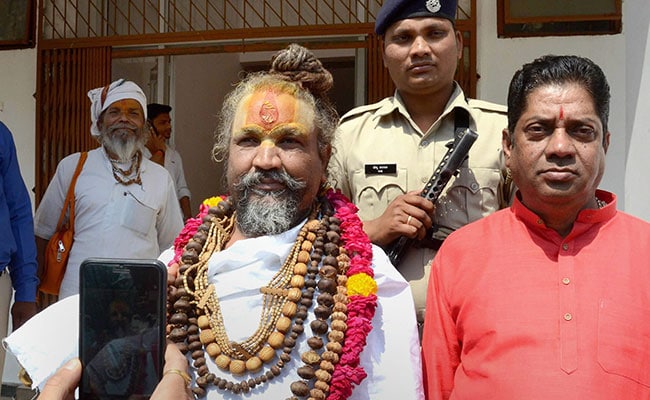 Bhopal:
Computer Baba, one of the five sadhus or religious leaders given the status of minister in Madhya Pradesh, announced his resignation today. Then he backtracked, saying he had not quit "yet", that he was mighty disappointed with the same government that had given him a job with perks.
The announcement of a "cow ministry" seems to have upset the self-declared godman. "Why only a cow ministry? A Narmada ministry is important too," he insisted.
Later in the evening, he was back to saying he had "no choice" but to quit a government that cannot take care of the cow, his flip-flop proving he is no longer a greenhorn in politics in the state where elections are due in the year-end.
"Our Sant Samaj (religious heads) decides everything and they told me I had not been able to get the Shivraj Singh Chouhan government to do anything. They are right. So what is the point of being a part of the government? I had no choice but to quit such a government," said the Baba, known for his matted hair, white robes and saffron and sandalwood smeared forehead.
Computer Baba said in his six months in the government, he had discussed the condition of cows and illegal mining at river Narmada "but wasn't allowed" to do anything.
"How can I be part of a government where cows are not respected, and one which is clearly godless?" Computer Baba thundered. "I told Shivraj ji that illegal mining is happening near Narmada, and if you or your police can't stop I'll go there with my saints and I'll stop it. But he doesn't want illegal mining to be stopped. He should be ashamed that he is born near Narmada," said Computer Baba.
The Baba, along with four others, were earlier this year roped in by the BJP government in Madhya Pradesh to take on the responsibility of cleaning up river Narmada. They were given "Minister of State" status in a move that the opposition Congress said was mainly directed at winning over Hindu religious leaders in an election year and draw in their supporters.
Computer Baba had been gung-ho about the appointment, and had fended off criticism saying: "What's wrong with it? We were rewarded for our work."
In June, one of them, Bhaiyyu Maharaj, committed suicide at his ashram in Indore. Computer Baba had at the time asked for an investigation.