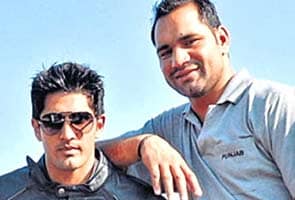 Fatehgarh Sahib:
International boxer Ram Singh, sparring partner of Olympian Vijendra Singh was on Thursday dismissed by Punjab police in connection with the recent recovery of 26 kg of heroin worth Rs 130 crore.
Sub-Inspector Sarabjit Singh, who was close to a retired Senior Superintendent of Police, was also dismissed by the Punjab police in connection with the drug haul case.
A team of Fatehgarh Sahib police raided the house of Sub-Inspector Sarabjit Singh on the intervening night of March 26-27 at Naya Gaon and claimed to recover 2.6 kg opium and one kg powder and packing material for drugs, a Punjab police spokesperson said.
The spokesperson said that during investigations the role of Punjab police Head Constable and boxer Ram Singh and others in procuring heroin has been conclusively established.
Fatehgarh Sahib police sent a report on this to the Commandant, 2nd Cdo Battalion, which is the parent unit of Head Constable Ram Singh.
On the basis of the report, Commandant Sushil Kumar on Thursday dismissed Ram Singh from the service.
The spokesperson said the packing material is similar to what had been recovered from the house of drug haul case kingpin Jagdish Bhola on March 7.
In addition, 10 empty magazines of AK-47 and a 12-bore gun were recovered. No licence for the gun could be produced by those present in the house of Sarabjit. 11 mobile handsets were also seized.
He said Sarabjit was not present in his house and has been absconding. On Wednesday, police parties of District Fatehgarh Sahib and four other districts were dispatched to apprehend Sarabjit, who is yet to be arrested.
The spokesperson said investigations have revealed that after dismissed Punjab police DSP Jagdish Bhola absconded on March 7, he went to Sarabjit's house on March 11 from where he made telephone calls to his associates using a mobile phone registered in the name of Sarabjit's wife Reet Sidhu.
Police claimed Sarabjit is an active member of the gang of smugglers headed by NRI Anoop Singh Kahlon and Jagdish Bhola.
Sarabjit aided Bhola in absconding and arranged hideouts for him.
He said the matter was examined at Punjab police headquarters on Thursday.
On a reference from Fatehgarh Sahib police, SSP Patiala dismissed Sarabjit from service invoking the provisions of Article 311 (2) of the Constitution of India.
The spokesperson said police on Thursday recovered 10 kg rave drug powder worth Rs 10 crore from former militant Kulbir Singh Asamd of Karnal, who has earlier been arrested in this case. He said further investigation is in process.
It may be recalled that the name of international boxer Vijender Singh had cropped up in the drug haul case. Fatehgarh Sahib police had already started legal process to take blood and hair samples of Vijender Singh. Police had arrested around 15 persons in the case so far.