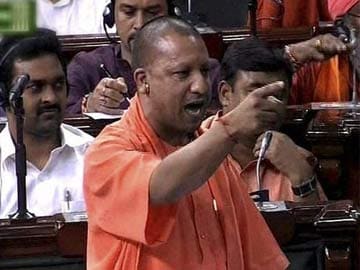 New Delhi:
In Parliament today, BJP lawmaker Yogi Adityanath delivered a controversial speech, which included the declaration that "Hindus, when threatened, must be prepared to organize themselves and fight back."
His comments came during a debate on the recent disturbing trend of communal violence in states like Uttar Pradesh and Haryana. Yogi Adityanath, 42, is the MP from Gorakhpur; he faces charges in cases linked to inciting communal tension.
The debate was insisted upon by the Congress - last week, its Vice President Rahul Gandhi was among a group of lawmakers from his party who disrupted Lok Sabha proceedings, demanding an urgent discussion on communal violence. But today, Mr Gandhi was silent.
Leader of the Congress
Mallikarjun Kharge
alleged that 600 riots had taken place in different parts of the country in the two months since
Prime Minister Modi
's government took office. "You divide society on the basis of religion and implant your principles on suppressed sections like minorities so that they remain away from power," he said.
(Drastic Rise in Communal Violence Since BJP Took Power: Sonia Gandhi)
Hitting back, Yogi Adityanath said, "You claim you are secular but the agenda you implement is communal... there are 12 lakh Hindu saints in the country but you talk about giving salaries to imams. Is this secularism?" countered the BJP MP, saying that in the atmosphere of "appeasement" followed by the Congress and its allies like the Samajwadi Party, "Hindu religion followers will have to organize themselves. People in the country are getting ready for this to counter such appeasement at every level."
The saffron-robed MP said the Congress' own stints in power have been marred by communal riots - he referred to the 1984 riots in which thousands of Sikhs were killed in Delhi and the exodus of 3.5 lakh Kashmiri Pandits from their homes.
Get Breaking news, live coverage, and Latest News from India and around the world on NDTV.com. Catch all the Live TV action on NDTV 24x7 and NDTV India. Like us on Facebook or follow us on Twitter and Instagram for latest news and live news updates.