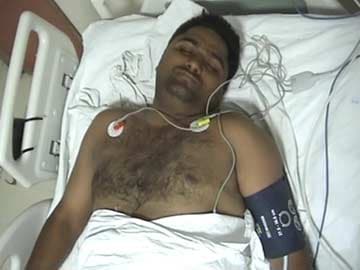 Bulandshahr:
Puneet Singhal, a local BJP leader in Bulandshahr, Uttar Pradesh, was shot at when he reportedly tried to chase down four men who had snatched money from a person at a local market.
Mr Singhal, who is a trader, reportedly caught one of the robbers, while the others shot him and escaped. The leader was rushed to a Meerut hospital and is said to be in critical condition.
The incident took place in Gulaothi town of Bulandshahr district, nearly 120 kilometers away from Muzaffarnagar where another BJP leader Omveer Singh was shot dead yesterday.
This is the third time this week that member of the BJP have been shot in UP. Last week, Vijay Pandit, a local leader in greater Noida was shot dead by gunmen.
No arrests have been made so far in any of the cases. BJP supporters and traders have blocked highways and closed shops in protest after each incident.
Omveer Singh was murdered on Tuesday hours before UP Chief Minister Akhilesh Yadav of the Samajwadi party convened a meeting of senior cops and bureaucrats to discuss the law and order situation in the state.
Mr Yadav has faced huge criticism after two young girls were gang-raped and found hanging from a tree two weeks ago in the Badaun district of the state. The case made international headlines. Last night, a woman was found hanging from a tree in the northern district of Bahraich, 130 kilometres from the state capital of Lucknow.