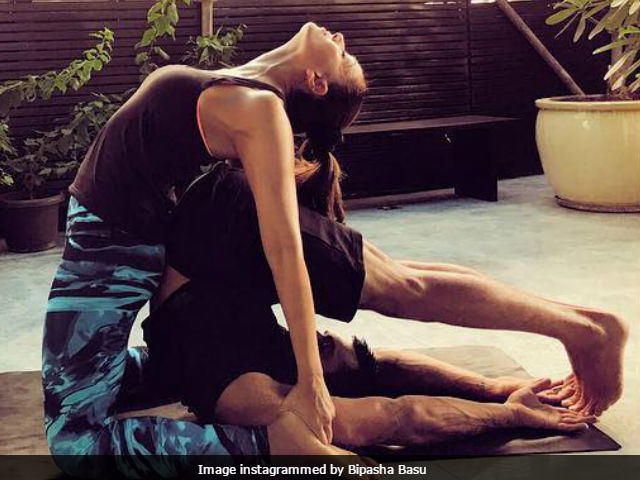 Highlights
Bipasha Basu and Karan Singh Grover aced the infinity pose
They also performed the Ustrasana + Halasana in turns
Shilpa Shetty also posted a video of herself performing Bakasana
New Delhi:
It is International Yoga Day and Bollywood fitness brigade has started filling up Instagram with inspiring pictures and video - actor couple Bipasha Basu and Karan Singh Grover being one of them. Bipasha Basu posted pictures from their couple yoga session on Wednesday morning and it will give you fitness (and couple goals). In one picture, Bipasha and Karan make a perfect infinity pose. Her second post is a collage of them doing the Ustrasana + Halasana in turns. Bipasha wrote in caption: "Yoga is like Life - It's a beautiful balance of holding on and letting go. It's magical. Keep practicing, we are all work in progress."
International Yoga Day With Bipasha Basu, Karan Singh Grover be like this:
Bipasha Basu, 38, and Karan Singh Grover, 35, are both known fitness enthusiasts, who do not shy away from gym and crave for healthy bites. Even when they are out for vacations, Bipasha and Karan manage to take time out for a workout session.
Meanwhile, actress Shilpa Shetty also shared a video on Instagram to inpire her followers. In the video, the 42-year-old actress perfectly performs the Bakasana, which she said she mastered after endless practice sessions. "The harder the struggle the more glorious the triumph. Never give up," she wrote in caption.
Meanwhile, Malaika Arora will join a yoga session at the Marine Drive with her fans. In Lucknow, Prime Minister Narendra Modi led International Yoga Day celebrations at Ambedkar Sabha Sthal. He performed yoga asanas in the rain for about 20 minutes.
Are you getting ready for the International Yoga Day?