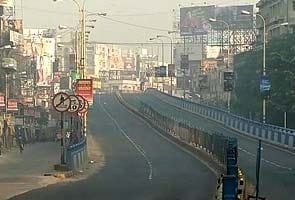 New Delhi:
Many banks were closed and public transport disrupted on Wednesday because of a strike by trade unions protesting against high prices but New Delhi and Mumbai were mostly unaffected and financial markets were open.
Violence erupted in some places on the first day of a two-day strike as workers, angry about high fuel prices in particular, tried to keep vehicles off the roads. One union member was killed in Ambala.
(Trade union activist killed in Ambala)
The strike comes as the beleaguered government prepares to present its budget to Parliament, which convenes tomorrow ; Dr Manomhan Singh's government is also beleaguered by allegations of corruption in a deal for 12 Italian helicopters.
The Prime Minister, who is grappling with the worst economic slowdown in a decade and faces a general elections early next year, had asked the unions to call off the strike, but they refused.
"We want the government to take note of this," said Akhtar Hussain, vice-president of the Bharatiya Mazdoor Sangh or Indian Workers' Union. "They think they can turn a blind eye to our demands, but they must know that enough is enough. We need our demands to be met. The government needs to be more serious."
In New Delhi and Mumbai, bus and suburban train services were running without disruption. Some taxis were off the roads but offices and schools were open.
Elsewhere, however, public transport was not running, banks were closed and most shops and offices kept their shutters down. (
Response to strike overwhelming
)
The Associated Chambers of Commerce and Industry said on Tuesday that the two-day strike was expected to cause an estimated loss of Rs 15,000-20,000 crore, hurting sectors such as banking, insurance and transport.
© Thomson Reuters 2013