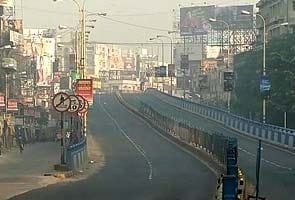 New Delhi:
Central trade unions on Wednesday said that the first day of their nationwide strike in support of demands to contain inflation and employment generation had drawn "overwhelming response".
All India Trade Union Congress (AITUC) general secretary Gurudas Dasgupta said in New Delhi that the strike was "unprecedented".
"All the central trade unions congratulate the working people of India for their overwhelming and magnificent response to the united call for two-day country wide strike, which commenced this morning," Mr Dasgupta said.
Asked about the violence in Noida during the strike, he said it was unfortunate.
The shutdown had turned violent in Noida as workers attacked factories that were open and set fire to vehicles and fire tenders that were trying to douse the flames.
Mr Dasgupta, a CPI-M MP, said the government should take note of the support extended by people to the strike.
He said the strike would continue on Thursday.
Centre of Indian Trade Unions (CITU) president A.K. Padmanabhan said they were expecting 10 crore people to participate in the strike and support for the shutdown had been to their expectations.
Union leaders said the strike had seen participation from several sectors including banking, public sector defence units, industry, hotels, financial institutions and taxi and auto drivers.
The unions have demanded concrete measures for containing inflation, steps for employment generation, universal social security, and making the minimum wage Rs 10,000 per month, along with daily allowance.
The two-day strike has been called jointly by 11 trade unions including Indian Trade Union Congress (INTUC), AITUC, Hind Mazdoor Sabha (HMS), Centre of Indian Trade Unions (CITU), All India United Trade Union Centre (AIUTUC), Bharatiya Mazdoor Sangh.