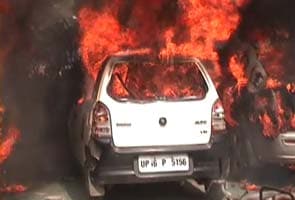 New Delhi:
The Bharat bandh or all-India strike today took an ugly turn this morning when factories and cars were vandalised and burnt in Hosiery complex, phase 2 in Noida near Delhi. 14 people have been arrested for this.
Some factory-owners claim their property was looted. " People just barged in, looted everything in sight and even tore our registers," said Vikram Khemka from AnG House a security surveillance firm. (
See pics
)
Harjeev Chawla, another factory owner told NDTV that he began getting calls from around 8am that mobs were roaming around the complex breaking glass panes and setting cars on fire.
"When I came into the complex a few hours later, every single building had their glass broken and I saw several cars either still on fire or completely charred," he said.
Another owner Pankaj Sadh also reiterated how organised mobs were moving around the whole area destroying property. " In my own factory, mobs climbed the gates and walls, broke and carried away computers, damaged the external facade of the building," he said.
Other factory owners also told NDTV that many of their frantic calls to the police remained unattended. "When the police finally came they detained some men, but there was a fresh round of arson in retaliation after that," one owner said.
Another bus driver described how his bus was stationary but still targetted and all window panes broken. " The police were definitely outnumbered here. I recognise some boys and they appeared to be from the neighbourhood.
For now the police has increased their presence in the complex and secured the area, but many factory owners feel the damage has already been done.
Across the industrial area now, there are makeshift hand-written signs, hurriedly pasted on the gates, saying the units will remain shut today and tomorrow, virtually arm-twisted into complying.