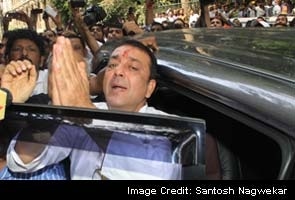 Mumbai:
Actor
Sanjay Dutt
, who surrendered in court today, will likely be taken to Pune's Yerawada Jail after paper work is completed at Mumbai's Arthur Road Jail.
The actor is no stranger to the prison in Pune. He has spent time there in the past when he was arrested in connection with the 1993 Mumbai blasts case. At that time, he had taken up carpentry and made a cane chair. This time, the 53-year-old actor could choose to take up farming, baking or cooking. (
Case Timeline
)
Mr Dutt is likely to be lodged at the Pune prison's 'Anda Cell', an egg-shaped cell, half of which is sunk underground. Hard-core criminals or those under threat are lodged there as it is considered one of Yerawada's most secure cells.
Jail authorities in Pune say they are making no special arrangements for the celebrity convict, though they have promised adequate security for Mr Dutt, who has said he has received threats to his life.
They have also promised to ensure that Mr Dutt does not come in contact with criminals in the jail who might be a threat to him.
However, the Mumbai court where he surrendered has allowed the actor to get home-made food delivered to him and has agreed to his appeal to be provided with a thin mattress and pillow and medicines for a month. After that, the jail authorities will decide whether these allowances will be continued. But the court rejected Mr Dutt's request to be allowed to smoke electronic cigarettes in prison. (
Read
)
Mr Dutt's conviction under the Arms Act for illegal possession of weapons including an AK-56 was upheld by the Supreme Court in March. The court ordered him serve five years in jail. Since he has already served 18 months in the past, he will now spend 42 months in prison.