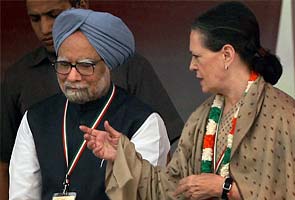 New Delhi:
At Congress' mega three-speech rally at Delhi's Ramlila Maidan today, party president Sonia Gandhi was the last speaker but had the sharpest words for Congress' political opponents.
She didn't name the BJP or its beleaguered President. But it was clear who her targets were. Launching a counter political offensive, Mrs Gandhi said, "You elected us in 2004... and we were elected again in 2009... Some people don't want to accept this... They want to destabilise the government," adding, "Those who levelled allegations against us find themselves mired in the muck of corruption. One should remember if you dig others' grave, you will fall into it."
The Congress, who parted ways with the Trinamool Congress over the issue of Foreign Direct Investment (FDI), wasn't defensive about FDI. Indicating that the party was willing to take the Opposition head on, Congress general secretary Rahul Gandhi said, "I was in Himachal and someone told me that they (the BJP) have told a barber that his shop will close down. That's a lie. It has nothing to do with FDI. Farmers will benefit from FDI."
Rahul Gandhi also controversially equated FDI with the Kargil war, a comment that's got the Opposition up in arms. "When Kargil happened, we supported Vajpayeeji," he said.
The Opposition believes a majority of the parties in Parliament are against FDI, including UPA allies. "We want the government to get Parliament's approval on this issue," says Prakash Karat, the CPI(M) general secretary who wants the government to take a vote on the issue of FDI in Parliament.
Constitutionally, the government is not bound to do so as FDI is an executive decision of the government and does not need Parliamentary approval.
While the Congress leadership made it clear that they would face any kind of Opposition challenge, they were silent on the issue of hike in LPG cylinders, price rise or fuel hike, all issues that can change Congress' electoral fortunes.
Prime Minister Manmohan Singh, though, did make an attempt to explain the rationale behind tough economic decisions. Tough economic decisions enable the government to raise resources to fund popular welfare programmes like the rural employment guarantee scheme.
It's also interesting that even though Mrs Gandhi did not mention the challenges posed by civil society-turned-politicians like Arvind Kejriwal, she did talk about storms created by news conference (khabro ka andhi) in an oblique reference to "press conference exposes" style of politics.
Explaining the idea behind Sunday's rally, Mrs Gandhi said, "...Why did we call this rally? I want to make it clear through you that at a time when the country is faced with political and economic challenges, Congress will face these challenges and succeed."
The Congress leadership may have felt reassured with the large turnout at the Ramlila Maidan as every Congress chief minister from north Indian states worked on getting the numbers right.
But whether or not the Congress has succeeded in putting across its views will perhaps be known only next month once the results of the assembly elections are known.