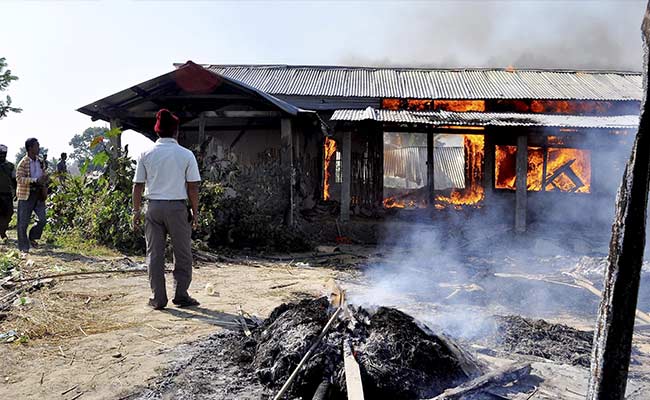 Guwahati:
The situation in violence-hit lower Assam districts is improving with no fresh incidents being reported since Friday, even as Chief Minister Tarun Gogoi today said confidence-building measures were needed in the wake of death of 81 people following an NDFB(S) militant attack.
State Home Commissioner Prateek Hajela has said the government was in full control of the situation, which was reviewed by the Chief Minister.
"We are in complete control. During the last 48 hours, the state has been incident free," he told reporters.
The death toll in the violence in the wake of NDFB(S) attack, retaliatory violence by adivasis and police firing stood at 81.
Mr Hajela said they were now concentrating on measures to build confidence among the inmates of 136 relief camps.
He said Mr Gogoi during his review of the situation expressed concern at the overnight increase in the number of inmates in the relief camps, at a time when there was no violence and normalcy had almost returned to the restive four districts.
Blaming it on rumour-mongering by "vested interests", particularly in Kokrajhar and Chirang districts, Mr Hajela said the state government had appealed to people not to believe in rumours and also not to spread rumours.
The Chief Minister has directed the Director-General of Police to intensify confidence-building measures and undertake strategic deployment of forces so that the inmates can return to their respective villages as early as possible, CMO sources said.
Mr Gogoi also reviewed the status of relief operations with the Chief Secretary, Director General of Police and senior officers from Home, Revenue and Disaster Management, Health and Family Welfare and PHE Departments and the senior officers deputed to the affected districts.
Assam State Disaster Management Authority Chief Executive Officer P K Tiwary said the number of relief camps increased to 136 today from 81 yesterday and the number of inmates went up to 1,76,440 from 1,01,272.
In 64 camps, 61,003 inmates, mainly Bodos, have been lodged and in the rest there are 1,15,337 adivasis.
The administration in all affected districts and sub-divisions are fully geared up to provide relief to the camp inmates and there was sufficient stock of food items available in all the relief camps, Tiwary said.