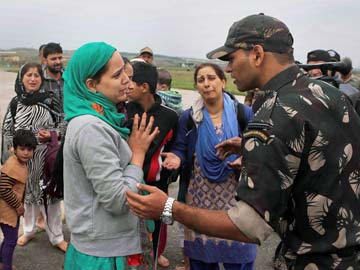 New Delhi:
The Army is using social media apps such as Twitter, Facebook and WhatsApp to save the lives of people stranded in the flood-affected areas of Jammu and Kashmir.
The Army headquarters is forwarding all the distress messages received on its website, facebook page and twitter handle to a WhatsApp group including senior commanders in the Northern Command from where troops on ground are being directed to help the people in stress, Army's Additional Director General (Public Information) Maj Gen Shaukeen Chauhan said.
So far, distress messages from all across the country have been received with anxious people seeking to know about their missing relatives and the Army has tried to reach to them, he said.
The WhatsApp group includes senior commanders of the Srinagar-based 15 Corps and Nagrota-based 16 Corps along with the units in field areas, Army officials said.
One of the messages received by the Army was for locating and helping a local MLA Rafiq Ahmed, they said.
The Army officers involved in the process are responsible for handling the Indian Army website, its twitter handle and the Facebook page.
Meanwhile, rescuers of the NDRF have received over 450 distress messages through Whatsapp and SMS from people stranded in the submerged areas of Jammu and Kashmir in the last two days.
"We were able to rescue some people after getting these messages. We have asked our commanders and control rooms to streamline these messages so that our teams can be directed where they are needed," National Disaster Response Force (NDRF) chief O P Singh said.
He said 453 such "social media" messages over Whatsapp, Twitter, SMSes and emails have been received by them.
He said the communication links in the state have also seen a "significant" improvement and the force hopes to reach more and more troubled people in the next few hours.
"We are also doing night operations in some areas," he said.
The Director General said 42 localities in Kashmir Valley have been identified as critical.
He said they are using Chetak and Cheetah helicopters to fly small sorties within a limited area to rescue more and more people.
The DG said they have received information that water has started receding in few areas.
He said 8,018 people have been rescued by them while 19 teams comprising about 1,000 personnel are operating in the state, where 148 boats have been deployed and more are being air-lifted.
The NDRF has published its distress call numbers. The control room number is 011-26107953, mobile- 09711077372 and email is ndrfhq@nic.in.
Get Breaking news, live coverage, and Latest News from India and around the world on NDTV.com. Catch all the Live TV action on NDTV 24x7 and NDTV India. Like us on Facebook or follow us on Twitter and Instagram for latest news and live news updates.