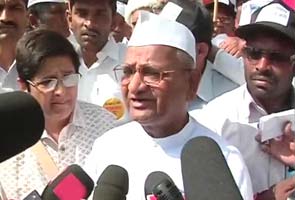 New Delhi/Mumbai:
Anti-corruption crusader Anna Hazare on Saturday said that he has decided to close down his blog. The statement came after claims made by Hazare's appointed blogger Raju Parulekar who said that he (Anna) wanted to "restructure his core team."
In support of his claim, Parulekar has released a letter which he claims was written and signed by Anna on October 23. According to Parulekar "he (Anna) had made up his mind to get away from Kejriwal, Bedi and Prashant Bhushan and their pawns in the core committee, after allegations against of his key members surfaced. However, Parulekar added, "Anna was not able to do so because he was under pressure."
Anna Hazare, however, denied any such intention and alleges that there is a conspiracy behind the row. "Only if I sign anything is it final on the blog," he said on Saturday, denying he gave the go ahead for comments against his core committee members to appear.
However Anna has acknowledged that there were mistakes made by Team Anna. In a reference to the core committee he said, "Some mistakes were made... as the movement started suddenly and whoever came we put them in ... we will dissolve the core committee and have a constitution in place and a new committee... So that there can be no finger pointing in the future."
But while Anna defends his core committee members, he has not heard the end of the issue, as the blogger threatens to reveal more about Team Anna in the coming days.