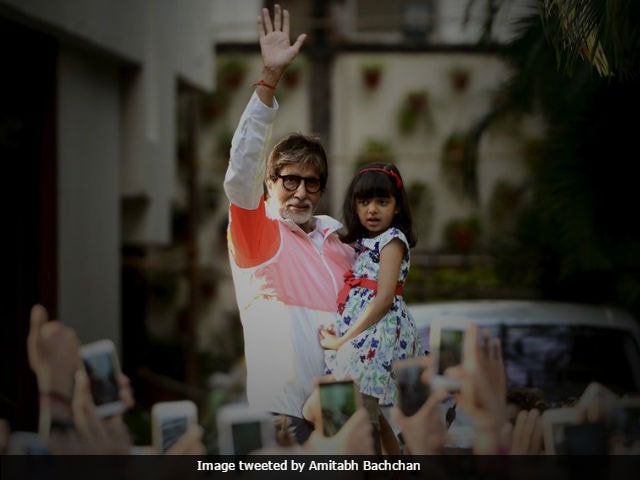 Highlights
Aaradhya co-greeted Amitabh Bachchan's fans on Sunday
'Aaradhya was a little afraid to be up there,' wrote Amitabh Bachchan
Big B thinks he lost out a number of brownie points from her
New Delhi:
Amitabh Bachchan's granddaughter Aaradhya, who is all of five, returned from Cannes (which she visits regularly with her mother Aishwarya Rai Bachchan) and had quite a successful trip. Aaradhya (sort of) walked the red carpet and co-starred with Aishwarya in her photoshoots. She met the foreign media and new people and handled all the attention
quite in style - just like a Bachchan
, to be precise. But on Sunday, she 'reluctantly' accompanied her grandfather to greet his fans, who converge at the doorstep every weekend in huge numbers. Mr Bachchan wrote on his
blog
: "And the reluctant little one finally agrees to come out to greet the well-wishers but is disturbed by the crowds and admits she
was a little afraid to be up there
."
Amitabh Bachchan also shared pictures of Aaradhya co-greeting his fans at Jalsa:
T 2439 - .. the Sunday well wishers .. and an introduction to the little one .. she confessed later : 'I was a little afraid'!! .. pic.twitter.com/85era6zQZL

— Amitabh Bachchan (@SrBachchan) May 29, 2017
Mr Bachchan thinks he lost many 'brownie points' from Aaradhya's accounts book on Sunday. Big B said Aaradhya found a new pet in Jalsa - a cat, she named 'salt pepper.' And Big B revealed what happened next on his
blog
: "She asked me to pet it and I told her I did not like cats, so she was surprised that I did not.. there is another one she said .. her sister .. the cats sister .. and wondered if I would consider liking the sister .. I said no .. I think I lost out a number of brownie points from her today .. (sic)"
Amitabh Bachchan owned a Piranha Dane dog, named Shanouk a few years ago. The dog died in 2013.
Meanwhile, Amitabh Bachchan is currently busy with two projects
Thugs Of Hindostan
with aamir Khan and
102 Not Out
with Rishi Kapoor.